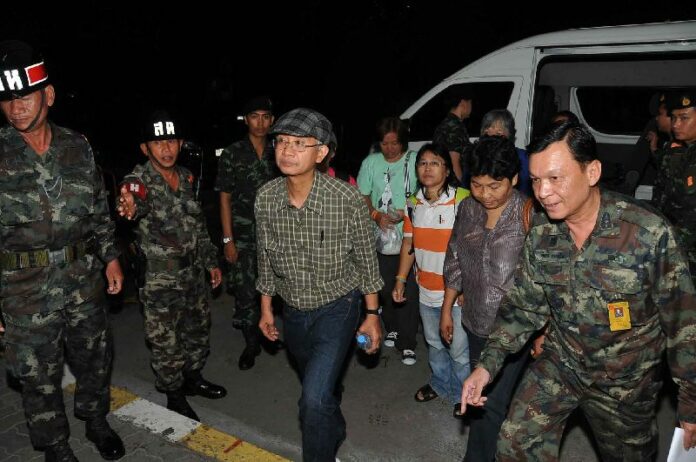 BANGKOK — Bangkok's police chief has reminded the public that the military junta's ban on demonstrations is still in place and applies to all protesters, regardless of their causes or political persuasions.
"[Public protests] are considered a violation of martial law," Pol.Maj.Gen. Amnuay Nimmano said at a press conference yesterday. "We have already talked about this, but there are still violations."
Thailand's military junta banned public demonstrations soon after the Army imposed nationwide martial law on 20 May, granting the military extensive powers to restrict basic human rights and freedoms.
Although the 2014 interim charter, which was drafted by Thailand's military junta, protects "all human dignity, rights, liberties and equality of the people" under Section 4, Thai authorities have continued to crackdown on dissidents and ban all forms of political activity. The junta announced this week that despite the recent formation of a new semi-civilian government, the junta will not repeal martial law anytime soon.
Pol.Maj.Gen. Amnuay also emphasized that demonstrations will not be permitted anywhere near the Government House — a rallying point of many protests in the past — even if the demonstrators merely intend to petition the government about their grievances.
"Anyone who genuinely has problems about their livelihood or agricultural crops must send representatives to submit petitions through complaint centres across the 77 provinces," Pol.Maj.Gen. Amnuay said. "They cannot besiege the Government House or put up tents like before. Don't come here."
Those who violate the ban on public protests may be sent to face trial in martial court and recieve a maximum prison sentence of one year, Pol.Maj.Gen. Amnuay warned. Two weeks ago, a military court in Chiang Rai province sentenced an anti-coup protester to a one year suspended jail term and 5,000 baht fine for organising an anti-coup rally on 25 May.
The Bangkok police chief's statements came a day after police broke up a demonstration organized by eight activists who were campaigning for a slew of energy reforms, including the nationalisation of Thailand's petroleum industry.
The group was led by the well-known Thai nationalist Veera Somkwamkid. Mr. Veera was returned to Thailand earlier this year after spending almost five years in a Cambodian prison for trespassing across the border in December 2010.
The activists, calling themselves "Partnership for Energy Reform," defied the ban on public gatherings by attempting to march from Victory Monument in central Bangkok to Jatujak Park on Sunday. Police broke up the protest and hauled Mr. Veera and the seven other activists away. They are currently being held in military custody.
Mr. Veera's arrest is notable because of his group's support for military coup; most of the demonstrators who authorities have detained and prosecuted in recent months have belonged to the anti-coup network.
For comments, or corrections to this article please contact: [email protected]
You can also find Khaosod English on Twitter and Facebook
http://twitter.com/KhaosodEnglish
http://www.facebook.com/KhaosodEnglish