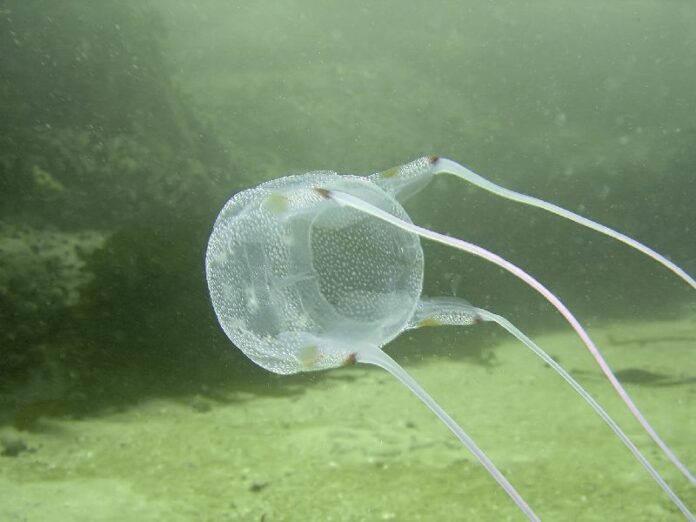 SURAT THANI — Public health officials are urging tourists to be cautious around box jellyfish in the seas surrounding Koh Pha Ngan island after a five-year-old French boy died from the jellyfish's poisonous sting over the weekend.
The boy was reportedly attacked by a group of box jellyfish while he was swimming with his family near Kuat Beach on Pha Ngan island on 23 August.
Rescue workers said they tried to rush the boy to the hospital but were unable to get him there in time.
The news has frightened many tourists on the island, which is well-known for its monthly Full Moon Party and coral reef diving.
Yongyoth Thammawuth, an official of Ministry of Public Health, said he has urged local authorities and diving businesses to warn tourists about the jellyfish, which are considered one of the world's deadliest creatures.
Dr. Yongyoth also advised rescue workers on the island to prepare first aid kits and vinegar in order to treat box jellyfish stings in time.
"Box jellyfish are extremely poisonous," Dr. Yongyoth said. "If a large amount of venom enters the skin, the victim will suffer a severe allergy. The victim may die if first aid is not applied quickly."
At least four people have died from box jellyfish stings off the coast of Pha Ngan island over the past two decades.
Thanyaporn Achalawichakul, an expert in marine life in Gulf of Thailand, said vinegar is the best first aid measure for victims stung by box jellyfish. However, she warned that the vinegar treatment is only effective if the liquid is poured over the victim's wounds almost immediately after the attack.
"You have to quickly apply vinegar within the first 30 seconds," Ms. Thanyaporn said.
Kasidech Thongchu, chief district officer of Pha Ngan Island, told Khaosod he has already instructed officials and hotel operators to put up signs around the island, especially on Kuat Beach, to warn tourists about the jellyfish.
Box jellyfish can be identified by their light blue colour and box-like shape. The creature is armed with 15 tentacles, each tentacle bearing over 5,000 venomous nodes.
Correction: The photo featured in the original version of this article depicted Irukandji jellyfish, not box jellyfish.
For comments, or corrections to this article please contact: [email protected]
You can also find Khaosod English on Twitter and Facebook
http://twitter.com/KhaosodEnglish
http://www.facebook.com/KhaosodEnglish