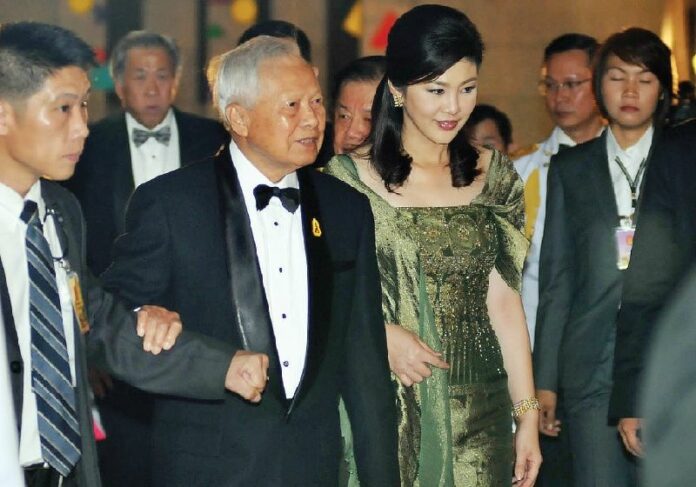 BANGKOK — Privy Councilor and former Prime Minister Prem Tinsulanonda has reportedly requested all senior military officers to refrain from visiting him on the occasion of his 94th birthday today.
Gen. Prem is the chief adviser to His Majesty the King and considered an extremely influential figure in Thailand's top military and palace circles. He is traditionally visited by high-profile politicians and commanders of the armed forces on his birthday.
This year, members of the military junta were also expected to visit Gen. Prem at his residence in Thewet district — just next door to the junta's headquarters — but his personal aide said the 94-year-old retired general has requested all visitors to stay away.
"[Gen. Prem] has requested a private birthday event this year," said the aide, Lt.Gen. Phitsanu Phuttawong. "He has already informed secretaries of each armed force to send birthday cards or bouquets as greetings, but they don't have to personally show up."
The Privy Councilor made the request because he "did not want to bother" junta leader and Prime Minister Prayuth Chan-ocha, or other members of the junta's National Council for Peace and Order (NCPO), Lt.Gen. Phitsanu said.
"Each commander has a busy schedule and many missions in administering the country," Lt.Gen. Phitsanu explained.
Officials said Gen. Prem has also dispatched a personal secretary to perform a religious ceremony on his behalf at Thewaratchakunchorn Worawiharn Temple.
A Prime Minister from 1980-1988, Gen. Prem survived numerous coup attempts and is regarded as one of the most adept politicians in Thailand's modern history. Gen. Prem has served as HM the King's chief aide since 1988.
In July 2006, Gen. Prem threw his support behind the movement against then-Prime Minister Thaksin Shinawatra when he compared the military and government to a horse stable owned by His Majesty the King, and Mr. Thaksin to a "jockey" appointed to look after the institution. The speech, given to an audience of military cadets, led Mr. Thaksin to lash out at Gen. Prem and call him "an invisible hand" who was plotting to overthrow his government.
Two months later, the military toppled Mr. Thaksin in a coup. Gen. Prem accompanied the coup makers as they met with His Majesty the King to brief him on the takeover.
The leaders of Thailand's pro-Thaksin Redshirt movement have continued to attack Gen. Prem in speeches and rallies over the past years, including a demonstration right outside Gen. Prem's residence in April 2009 that ended in a military crackdown.
For comments, or corrections to this article please contact: [email protected]
You can also find Khaosod English on Twitter and Facebook
http://twitter.com/KhaosodEnglish
http://www.facebook.com/KhaosodEnglish