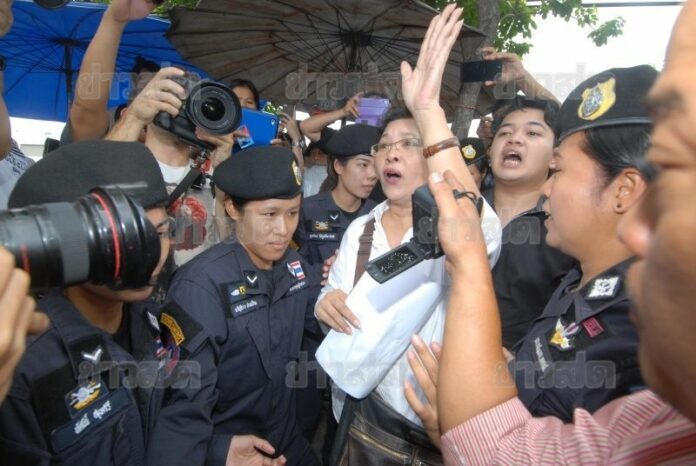 BANGKOK — The relatives of a 17-year-old boy and a volunteer nurse who were murdered during the 2010 military crackdown on Redshirt demonstrators staged a protest in defiance of the junta's ban on public gatherings today.
The protest followed the Criminal Court's decision to reject criminal proceedings against then-Prime Minister Abhisit Vejjajiva and his deputy Suthep Thaugsuban for their authorisation of the crackdown, which killed over 90 people, mostly civilians. Mr. Abhisit and Mr. Suthep were charged with murder and attempted murder.
The court argued that Mr. Abhisit and Mr. Suthep must be tried by the Supreme Court's Division of Political Office Holders because the two men were in political office when the alleged crimes were committed.
Pansak Srithep, whose son Samapan Srithep was killed in the clashes between soldiers and Redshirt in May 2010, distributed leaflets around Mo Chit BTS station at around 11 am today. The leaflets called for the establishment of a "People's Court" to try those responsible for the military crackdown on behalf of the victims' families.
The leaflets named 5 people including Mr. Abhisit and Mr. Suthep and three high-ranking military officers as "defendants" in the murder and attempted charges. Khaosod English is not publishing the names because of legal concerns.
Police moved in to detain Mr. Pansak almost immediately after he started distributing the flyers, while another group of police officers arrested Payao Akhart and her son Nattapat Akhart while they were waiting to stage a protest near the BTS Station. Ms. Payao's daughter, Kamonkate "Nurse Kate" Akhart, was killed in the May 2010 unrest while she was working as a volunteer medic.
Ms. Payao insisted to police that today's activities weren't meant to "protest or contest" the Criminal Court's verdict.
"I do not have intention to defame the court. I only want to ask for fairness for the deceased victims," Ms. Payao told police.
Nevertheless, Ms. Payao said she did not agree with the court decision, as she believes the murder charges against Mr. Abhisit and Mr. Suthep are not "political offences" and therefore not appropriate for the Supreme Court's Division of Political Office Holders.
The three activists were detained at Bang Sue police station for six hours before they were released.
Pol.Gen. Amnuay Nimmano, deputy commander of Bangkok Metropolitan Police, initially wanted to press libel charges against Ms. Payao and Mr. Pansak for "defaming" the individuals named in their flyers, but police officers later explained that the charges could not be filed because none of the mentioned individuals filed a complaint with the police.
"As for this case, I want to inform other victims' relatives that the Criminal Court did not acquit Mr. Abhisit and Mr. Suthep," said Pol.Gen. Amnuay, "The court did not take up the case because it lacks jurisdiction."
Police say officers of the Judge Advocate General's Department are still considering whether to press charges against Mr. Pansak and Ms. Payao for defying the junta's ban on public demonstrations.
Citing the power of martial law, the junta's National Council for Peace and Order (NCPO) has placed a nationwide ban on public protests and tried those who violate the ban in military court.
Last week, the military court handed down a suspended one-year jail sentence to eight anti-coup demonstrators for staging a protest against the NCPO in Chiang Rai province.