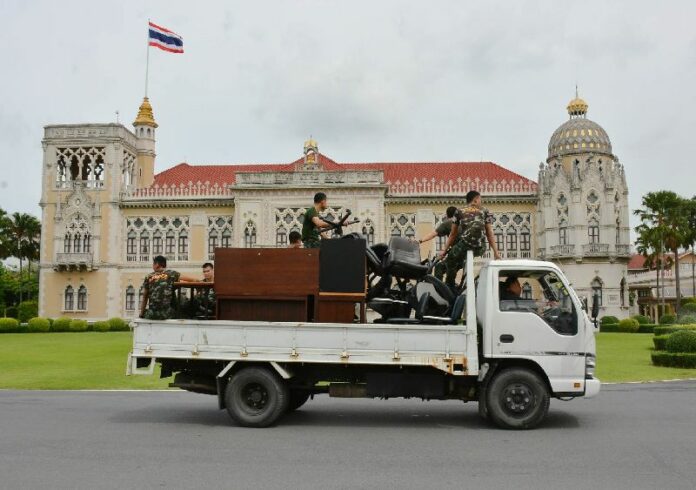 BANGKOK — Thailand's national anti-corruption agency says it is not investigating the 27 million baht sound system recently installed in the Government House.
"The NACC is not investigating the matter," said Panthep Klanarongklang, chairman of National Anti-Corruption Commission (NACC) at a press conference yesterday.
Mr. Panthep was responding to mounting criticism over the purchase of 192 microphones that reportedly cost 145,000 baht each for the Cabinet meeting room in the Government House.
The 27 million baht price tag has prompted criticism from activists and news outlets across the political spectrum. It is the first serious case of suspected corruption associated with Thailand's military rulers, who seized power in a coup d'etat nearly four months ago.
Yet the NACC chairman said he has not received any complaints about the expensive audio system.
"Once someone files a complaint, we will investigate the purchases," Mr. Panthep said.
When a reporter asked why the NACC has not taken any action despite the public outcry, Mr. Panthep explained that the agency lacks "information" about the purchases.
"Although we have the power to investigate it, we can't just simply do it without adequate information. Right now, the NACC has no information at all," Mr. Panthep said, even though the price of the lavish audio equipment is publicly accessible and has been posted on the website of Department of Public Works.
According to the document, in addition to the 145,000 baht-microphones, the military regime also ordered a 520,000-baht television screen, 19,000-baht TV wall mount, and 110,000 LED lamp for the Cabinet room.
The renovation was approved by the military junta's National Council for Peace and Order (NCPO).
Officials have attempted to quell the microphone controversy by claiming the equipment's supplier agreed to give the Thai government a 35 percent discount.
"Representatives of Robert Bosch Limited have offered a special discount for the Government House renovation. They agreed to give a 35 percent discount as requested by the Department," said Monthol Sudprasert, chief of the Department of Public Works.
"The price [of the microphones] is now down to 95,200 baht per piece," Mr. Monthol said yesterday. "They also agreed to give discount for other equipment … we will save a total of 14.1 million baht with this discount."
Mr. Monthol explained that the price posted on Bosch's website was not a finalised one, and that officials have not yet paid the supplier for the equipment.
"Let me stress that there has been no advanced payment, because it is still under a price negotiation procedure," the official added.
Meanwhile, Mr. Panthep said the NACC is "urgently" working to wrap up its investigation into former Prime Minister Yingluck Shinawatra's alleged failure to prevent widespread corruption in her government's rice pledging scheme.