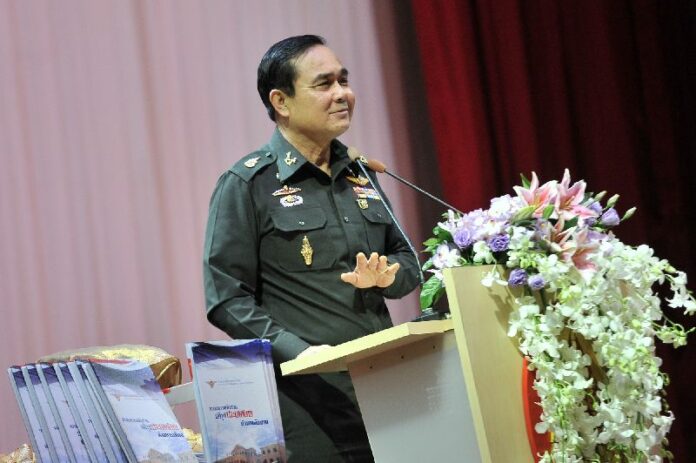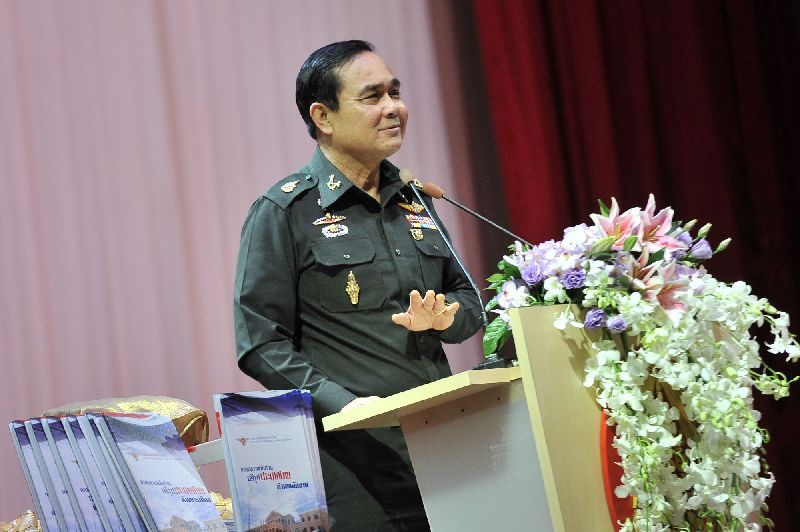 BANGKOK — Chairman of Thailand's military junta and Prime Minister Prayuth Chan-ocha says that "dealing with" a suspected anti-monarchy network will be a top priority of his administration.
Gen. Prayuth outlined a strategy to "defend" the monarchy in a speech he is due to give to his puppet parliament, the National Legislative Assembly (NLA), on Friday. The speech details a variety of policies that Gen. Prayuth's semi-civilian interim government will pursue over the next year.
The speech's transcript describes the monarchy as an important element of Thai-style democracy and an institution that the Royal Thai Government is obliged to uphold "with loyalty and defence of His Majestic Authority."
"We will use legal measures, social-psychological measures, and telecommunications and information technology to deal with those who are not mindful of their words, are arrogant at heart, or harbour ill intentions to undermine the important Institution of the nation," the speech reads.
Under Section 112 of Thailand's Criminal Codes, insulting the royal family is a criminal offense punishable by up to 15 years in prison.
The law, known as lese majeste, has been harshly enforced since the military staged a coup against the elected government on 22 May. The Thai armed forces are close allies of the monarchy, and Gen. Prayuth, who also serves as commander-in-chief of the Thai army, has frequently lashed out at perceived anti-monarchists.
According to Gen. Prayuth's speech, the government will also strengthen Thais loyalty towards the monarchy by publicising "correct understanding about the monarchy and His Royal Works for the people" and by supporting "projects that have been derived from His Royal Ideas, encourag[ing] officials, educational institutions, and other state agencies to study and understand His Royal Working Principles so that they can apply the aforementioned Principles in bureaucratic function and development."
"Furthermore, we will urgently expand the projects to which His Majesty has laid foundation in order to demonstrate [their effectiveness] to the public, and develop benefits in a wider circle, which will eventually help create prosperity and happiness for the people," the transcript reads.
Mass surveillance
Gen. Prayuth did not elaborate on the promised "legal measures, social-psychological measures, and telecommunications and information technology" that will be adopted by authorities, but a recent media report suggests that his government is ready to launch a large-scale internet surveillance program to monitor lese majeste content.
According to Prachatai, Thai authorities are planning to implement a surveillance device in mid-September to "sniff out" internet users that produce, read, and share lese majeste content.
The device, known as "sniffer," is reportedly capable of tracking key words related to lese majeste, monitoring traffic to certain websites, and even bypassing secured protocols, Prachatai reports.
If true, it will be Thai authorities most ambitious effort yet to crack down on discussions of the Thai monarchy.
Although discussing the monarchy is largely taboo in Thai society, a network of progressive Thais have begun questioning the power and wealth of the royal family and organised a campaign to amend or abolish lese majeste.
Radical elements of the Redshirt faction have also posted videos on social media that are critical of the monarchy.
Conservative and ultra-royalist factions in Thailand regularly accuse the Redshirt movement and its de facto leader, former Prime Minister Thaksin Shinawatra, of plotting to overthrow the monarchy and replace it with a republican form of government. Mr. Thaksin and his close allies have repeatedly denied the allegation.