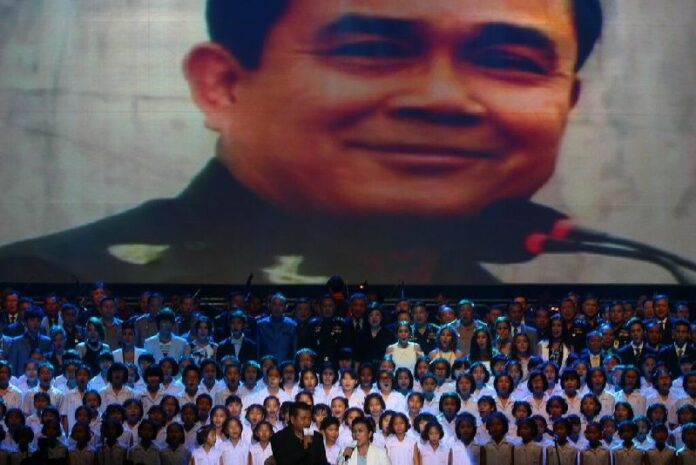 BANGKOK — Thai students are now required to memorise the "Twelve Values" bestowed by junta leader and Prime Minister Prayuth Chan-ocha in a new poem released by the Ministry of Education.
The poem, unveiled by the Ministry of Education on its website yesterday, is based on the Twelve Values Gen. Prayuth said he wants every Thai youth to adopt.
Gen. Prayuth's wise words were rendered into a poetic rhythm as followed:
One, love the Nation, Religion, Monarchy
Two, honesty, sacrifice, endurance
Three, gratitude to your parents with all your hearts
Four, strive to learn and be diligent in studies
Five, preserve the national culture
Six, do not lack in morality and religion
Seven, learn about sovereignty of the people
Eight, maintain discipline and Thai law
Nine, practice the Royal Teaching
Ten, you can live on Self-Sufficiency
Eleven, be strong in body and mind
And twelve, think of the greater good
Suthasri Wongsaman, Permanent Secretary of the Ministry of Educaton, said he believes the Twelve Values can also be practised and applied by teachers, bureaucrats, education officials, and all members of the public.
"They should seriously practice these values," Mr. Suthasri said in statement released by the Ministry of Education.
In addition to the poem, the Ministry will set up a committee to "consider" ways to include the Twelve Values in textbooks for public schools.
"Many experts are already submitting guidelines about practical application of the values," Mr. Suthasri said in the statement.
The Ministry of Education is currently mired in a separate controversy over newly revised history textbooks that fail to mention former Prime Minister Thaksin Shinawatra, an extremely influential political figure who backed the government toppled in the 22 May coup.
The revelation alarmed many observers who interpret the move as an effort by the junta to "rewrite" history.
Gen. Prayuth, who is wielding a near-absolute power as the government leader, army chief, and junta leader, is increasingly seen as an authoritarian ruler with a growing cult of personality.
A patriotic ballad Gen. Prayuth allegedly wrote "in one hour" has been played nonstop on state-owned media for months. The General also gives weekly televised lectures about morality to the public and has banned protests or any display of dissent against his rule.
More recently, the military junta warned against disseminating photoshopped images of Gen. Prayuth on social media, arguing that they mislead the public and distort the truth.