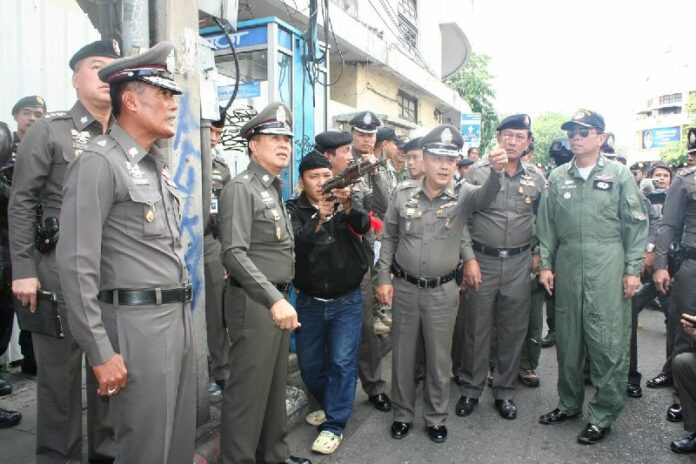 BANGKOK — Thailand's police chief has renewed the accusation that a 26-year-old Redshirt activist currently in exile supplied weapons to armed militants who fought with security forces during the political unrest in 2010.
Pol.Gen. Somyot Pumpanmuang said police found receipts of weapons purchases and money transfers that link Kritsuda Kunasen to the members of the militant group, known as the Blackshirts.
According to Pol.Gen. Somyot, Ms. Kritsuda, who is currently residing in Europe, kept records of illegal purchases of AK-47 rifles, RPGs, and M-79 grenade launchers in her home in Thailand. The documents were uncovered by police during a raid on her residence, Pol.Gen. Somyot claimed.
Police also found records that Mr. Kritsuda transferred up to "hundreds of thousands of baht" to accused members of the Blackshirt militants that were arrested last week, Pol.Gen. Somyot said.
"The prosecution of [Kritsuda] is in accordance with the evidence we have," Pol.Gen. Somyot said. "It's not a groundless accusation, or any attempt to discredit anyone."
Pol.Gen. Somyot's comments came in response to accusations that Thai authorities had fabricated charges against Ms. Kritsuda after she accused the military of torturing her while she was in their custody.
In May, Ms. Kritsuda was detained by the army without charges for 27 days, exceeding the seven-day limit on arbitrary detention that authorities respected for the majority of other detainees. After being released, Ms. Kritsuda fled to Europe and accused soldiers of abusing her during the detention – an allegation the military has vehemently denied.
Shortly after Ms. Kritsuda spoke out about her experience in military custody, Pol.Gen. Somyot accused her of engineering gunfire and grenade attacks on anti-government protesters who took to the streets in December 2013 – May 2014. It's unclear why the military let Mr. Kritsuda walk free after her detainment.
The alleged connection between Ms. Kritsuda and the 2010 militants is the latest twist in the ongoing investigation into the mysterious Blackshirts.
Four men and one woman suspected of belonging to the group were arrested this month. However, many have questioned the likelihood that members of the Blackshirt cell are still in Thailand today; a number of sources report that those connected to the violence in 2010 fled the country several years ago.
In addition, it's still unclear why one of the suspects, Kittisak Soomsri, was reportedly detained incommunicado in a military camp for a week prior to the press conference announcing the five suspects' arrests. Mr. Kittisak confessed to the charges during the press conference, though Thai police have a history of parading suspects in front of the media and extracting confessions from them that are later retracted.
Twenty civilians and five soldiers, including the commander of the operation, were killed on 10 April 2010 in the clashes between the Blackshirts and security forces who were cracking down on Redshirt protesters rallying in Bangkok at the time.