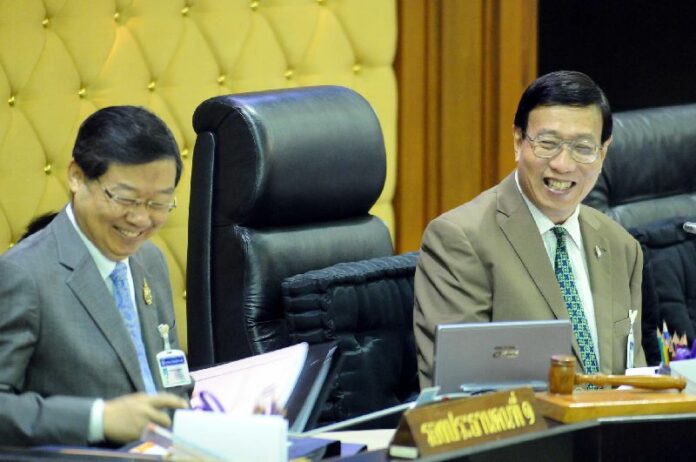 BANGKOK — The military-dominated National Legislative Assembly has granted itself the authority impeach political office holders, without elaborating on the the scope of the new power or how it will be put to use.
The newly-enacted power was included in the NLA Meeting Regulation No. 149, which passed by a vote of 148 against four abstentions yesterday.
In the past, impeached individuals have been banned from politics for five years.
The move has drawn criticism that the junta-appointed NLA is overstepping its bounds, as the 2014 Interim Charter does not include a provision on impeachment, unlike the now-defunct 2007 Constitution.
It is also unclear whether the new regulation permits the NLA to impeach former political office holders, a move that would empower the military-dominated parliament to block members of the government toppled in the 22 May coup from returning to office.
Prior to the coup, the NACC declared former Prime Minister Yingluck Shinawatra guilty of alleged negligence that led to corruption and attempted to pass her case to the Senate for an impeachment vote in early May. This came after Ms. Yingluck had already been removed from office in a judicial ruling.
Yet the push for impeachment fell through after the junta dissolved the Senate two days after the coup.
Sansern Polchiak, sec-gen of the NACC, said on 6 September that the anti-graft body is now looking to the NLA to impeach Ms. Yingluck for her alleged corruption, though there has been no development in the case so far.
Since staging the coup on 22 May, the military junta's National Council for Peace and Order (NCPO) has attempted to dismantle the influence of the former government and its de facto leader, Ms. Yingluck's brother and former Prime Minister Thaksin Shinawatra.
Political parties backed by the Shinawatras have won every national election since Mr. Thaksin, a former telecoms tycoon, rose to power in 2001. Mr. Thaksin is currently living in self-imposed exile to avoid corruption convictions, but is thought to retain signficant sway over Thai politics.
After staging the 22 May coup d'etat, the NCPO briefly detained hundreds of politicians and activists considered loyal to the former government, and reshuffled bureaucratic and police positions in an attempt to sideline Mr. Thaksin's allies. The NCPO's interim government is expected to draft a charter will restrict the power of the next elected government.
For comments, or corrections to this article please contact: [email protected]
You can also find Khaosod English on Twitter and Facebook
http://twitter.com/KhaosodEnglish
http://www.facebook.com/KhaosodEnglish