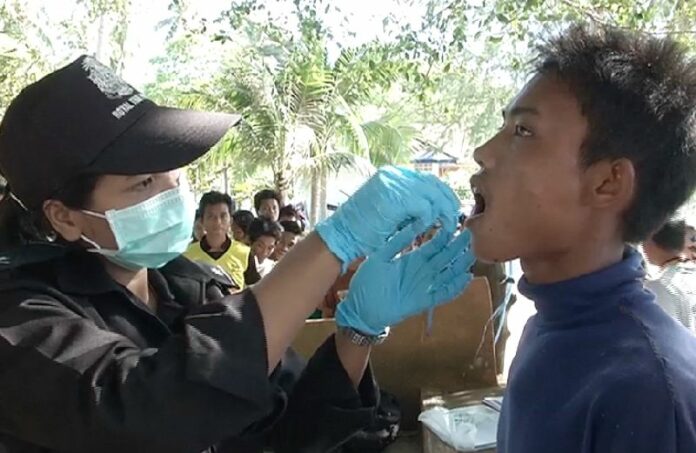 SURAT THANI — A senior Thai police officer has promised to investigate the claim that police abused Burmese migrant workers while interrogating them about the murder of two British tourists in southern Thailand last week.
"If there is an allegation of police officers committing wrongful acts, we are willing to investigate the matter," said Pol.Maj.Gen. Suwat Chaengyodsuk, a deputy commander of Metropolitan Police Bureau leading the investigation into the murders.
Pol.Maj.Gen. Suwat was responding to a report by Irrawaddy, which alleged that police beat two Burmese migrant workers while interrogating them about the murder of David Miller and Hannah Witheridge.
Scores of Burmese workers on Koh Tao island have been rounded up and questioned by police since the bodies of Mr. Miller, 24, and Ms. Witheridge, 23, were found on one of the island's beaches on 15 September.
Police have also started collecting DNA samples from many Burmese workers on the island following speculation that Burmese migrants were responsible for the murder, though police have yet to produce any evidence to support the suspicion.
Thailand is home to more than one million Burmese migrant workers, many of whom are not officially registered with authorities. Their lack of legal protection, coupled with widespread discrimination against Burmese people in Thailand, means they are often subject to abuse by employers, police, and human traffickers.
"We feel like we are not safe as there are no people to help us," a Burmese worker on Koh Tao named Soe Min Htet told the Irrawaddy. "Here, our citizens are vulnerable to unfair treatment and are always looked down upon."
Yet Pol.Maj.Gen. Suwat insisted that the investigation is being conducted appropriately and in accordance with human rights principles.
"I have always stressed to the officers that our performance must consider human rights, too," Pol.Maj.Gen. Suwat said.
The officer also said he welcomed reports from both Thai and foreign press that are critical of the police investigation.
"As for the criticism that our working on the case has been slow, I welcome these criticisms from people and the global community. They are like mirror that reflects our performance," Pol.Maj.Gen. Suwat told reporters.
His comments came in stark contrast to remarks made by a number of other high-ranking officials, including junta leader and Prime Minister Prayuth Chan-ocha, who accused the foreign media of "hindering" and interfering with the Thai police investigation.
Hundreds of police officers have been dispatched to the 21 sq. km island to assist with the investigation in the past week. However, authorities have yet to make any arrests as forensic tests have reportedly cleared all potential suspects from a connection to the murder.
Related articles:
Britons' Murder: Lacking Evidence, Police Target Burmese Migrants
Britons' Murder: Police Claim Investigation Hindered By Media
Bangkok Suspect Cleared of Connection To Britons' Murder
For comments, or corrections to this article please contact: [email protected]
You can also find Khaosod English on Twitter and Facebook
http://twitter.com/KhaosodEnglish
http://www.facebook.com/KhaosodEnglish