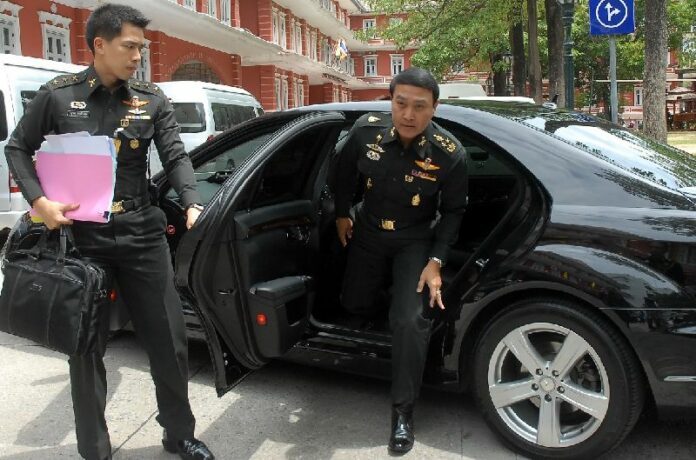 BANGKOK — The Royal Thai Army is planning an extravagant parade for next week to honour junta leader and Prime Minister Prayuth Chan-ocha's retirement as army chief.
The parade is meant to celebrate Gen. Prayuth and over 200 other generals who will retire from their posts this October, said Col. Sirichan Ngathong, deputy spokesperson of the Royal Thai Army.
"It is an important ceremony to thank and praise the diligence and good deeds of those who about to retire," Col. Sirichan explained.
According to Col. Sirichan, the parade will start at 9 am on 29 September at Chulalomklao Royal Military Academy in Nakhon Nayok province, an hour northeast of Bangkok.
The parade is slated to feature troops from five army battalions and a wide array of military vehicles, including tanks, armoured personnel carriers, helicopters, and artillery pieces. A squadron of jet fighters is also expected to fly over at the parade and release red, white, and blue smoke – the colours of the Thai flag.
"The public is invited to view the ceremony and the parade, too" Col. Sirichan added.
Gen. Prayuth, who led the 22 May coup earlier this year, has been chief of the Thai army since 2010. After retiring from his position in October, Gen. Prayuth will retain his posts as head of the junta's National Council for Peace and Order (NCPO) and Prime Minister of Thailand.
Secretary-general of the NCPO, Gen. Udomdej Sitabutr, has been chosen to succeed Gen. Prayuth as the new commander-in-chief of the army.
For comments, or corrections to this article please contact: [email protected]
You can also find Khaosod English on Twitter and Facebook
http://twitter.com/KhaosodEnglish
http://www.facebook.com/KhaosodEnglish