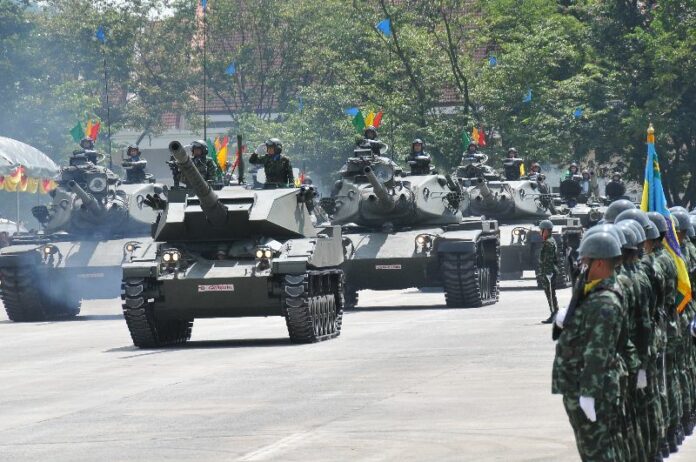 BANGKOK— According to Thailand's ambassador to the United Nations, the international community now "understands" the necessity of the 22 May military coup.
"I have explained to international delegates the need of the current administration to step in," said the diplomat, Norachit Sinhaseni. "It was for the sake of ending violence and conflicts."
He continued, "Those who misunderstand the coup are decreasing, while many countries praise the Thai government for its effort to create peace and stability, which is clearly successful."
Mr. Norachit's comment came a day after Gen. Thanasak Patimapakorn, Deputy Prime Minister and Minister of Foreign Affairs, addressed the UN 69th General Assembly at New York City, USA. In his speech, Gen. Thanasak repeated the junta's narrative that the military was forced to prevent violence between Thailand's opposing political factions from spiraling out of control.
The general also promised the UN that the junta's National Council for Peace and Order (NCPO) will steer Thailand back toward electoral democracy in the near future.
"Let there be no doubt that Thailand is not retreating from democracy," Gen. Thanasak said.
The NCPO staged a coup on 22 May after six months of protests against former Prime Minister Yingluck Shinawatra. The anti-government protesters wanted to replace Ms. Yingluck's administration with an unelected "People's Council" and repeatedly called on the military to intervene on their side. Opposing pro-government supporters descended on the capital in the weeks leading up to the coup to rally in favor of addressing political differences at the ballot box.
Since seizing power on 22 May, the coupmakers have largely carried out the demands of the anti-government protesters by suspending democracy to pursue widespread national reforms.
The coup drew condemnation from a number of western countries, including the United States, Australia, and the European Union.
But Sihasak Puangketkaew, Permanent Secretary of the Ministry of Foreign Affairs, insisted that Gen. Thanasak's visit to the UN has been "successful" in convincing western nations to understand the situation in Thailand.
"It was a good opportunity for Thailand to explain to them about the political situation in our country, in order to raise the confidence of the audience in Thailand," Mr. Sihasak said.
Gen. Thanasak's trip to the UN is the first official visit to a western nation by a member of Thailand's military junta. Meanwhile, Gen. Prayuth Chan-ocha, Prime Minister and junta leader, is said to be planning a trip to Myanmar in the near future.
For comments, or corrections to this article please contact: [email protected]
You can also find Khaosod English on Twitter and Facebook
http://twitter.com/KhaosodEnglish
http://www.facebook.com/KhaosodEnglish