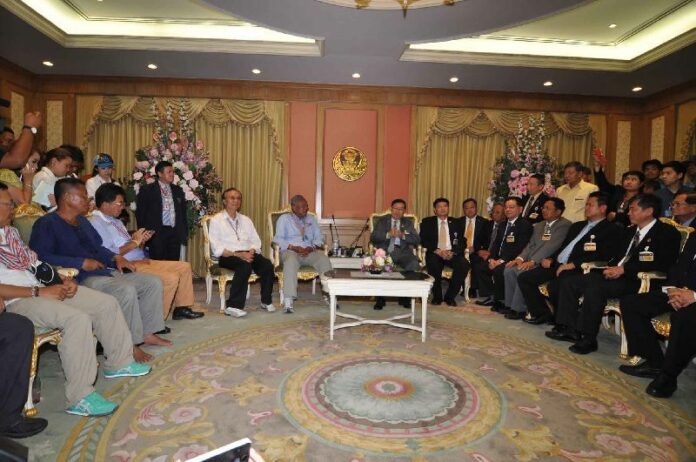 BANGKOK — Thailand's military junta has appointed a 250-member reform body that is heavily stacked with traditional elites and allies of the country's conservative establishment.
According to the military junta's 2014 Interim Constitution, the National Reform Council (NRC) will propose reforms across various fields to the Cabinet and National Legislative Assembly (NLA), whose members were also handpicked by the junta.
Although coup-leader turned Prime Minister Gen. Prayuth Chan-ocha insisted that the NRC would represent a balanced cross-section of society, the final list of members published yesterday evening is dominated by conservative hardliners opposed to the former government.
Among them were nine leaders from the anti-government protests that preceded the coup, including Naowarat Pongpaiboon, Sombat Thamrongthanyawong, and Charas Suwanmala.
The protest group, known as the People's Committee for Absolute Democracy With the King As Head of State (PCAD), campaigned against the former government for seven months until the military intervened and launched a coup in May.
Eleven of the 'Forty Senators' clique – a group of unelected Senators who opposed the former government – also made the final cut, such as Rosana Tositrakul, Kamnoon Sitthisaman, and Pramote Maiklat. The so-called Forty Senators played an active role in the PCAD's campaign to unseat then-Prime Minister Yingluck Shinawatra and replace her with a royally-appointed PM.
In addition, 31 retired military officers were added to the reform council, as well as nine members of the governing bodies appointed by the previous coup-makers in 2006.
Three members of the former government were included in the reform body, but not a single representative of the pro-government Redshirt movement was selected.
The National Legislative Assembly (NLA) is similarly dominated by military and police officers, conservative politicians, and bureaucrats.
Chertchai Tantisirin, a Redshirt activist and former Pheu Thai Party MP, said he is dismayed by the composition of the NRC.
"They are all the same group who opposed the government, and now they are joined by the people who drafted the [now-defunct] 2007 Constitution," Chertchai said.
He expressed concern that the reforms they pursue will not be inclusive because of the group's partisan nature.
"I'd like to tell the NRC to be open-minded and accept criticism from the people. Don't act like puppet [of the junta]," Chertchai said."Redshirts will be closely watching you."
The junta initially planned to set up a separate committee of experts to select the NRC members from a pool of 6,000 applicants. However, the coup-makers scrapped the plan last month and announced they would directly pick the council's members instead.
The NRC will also be tasked with forming a committee to draft a new constitution to replace the charter dissolved by the junta in May.