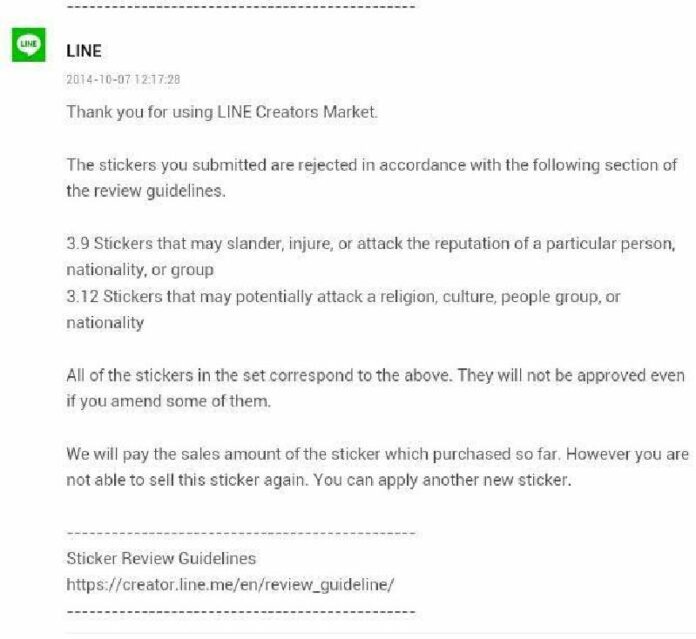 BANGKOK — The popular messenger application LINE has withdrawn emoticons depicting a red buffalo, the unofficial mascot of the Redshirt movement.
Originally, red buffalo (kwai daeng) was a nickname used to insult supporters of the Redshirt movement, as buffalos are considered a symbol of stupidity in Thai culture. However, in recent years many Redshirts have embraced the nickname in good jest and produced several products based on the unofficial mascot, including the LINE emoticon, or 'sticker' set, created by a Redshirt activist.
But the anonymous administrator of the "Red Buffalo" Facebook page, who created the stickers, posted an announcement today explaining that LINE has removed the stickers because of their 'slanderous' nature. The stickers were only available for 24 hours before they were removed.
According to the creator, LINE said they have the right to remove any "Stickers that may slander, injure, or attack the reputation of a particular person, nationality, or a group."
While some commentators said they managed to download the sticker set before it was removed, many expressed disappointment about missing the brief window. One of the commentators raised suspicions that Yellowshirts – political rivals of the Redshirts – may have "reported" the sticker in an attempt to have it banned.
In May, soldiers in Chiang Mai were dispatched to remove T-shirts depicting a red buffalo stamping on a cockroach – a symbol for the opposition Democrat Party – from all of the city's markets.
LINE is one of the most popular messenger applications in social media obsessed Thailand. According to the Japan-based company, there are at least 24 million registered LINE users in Thailand out of a population of 65 million.
In the past, authorities have attempted to curtail and monitor the use of Thailand's social media-sphere, which has a reputation as a destructive rumour mill and forum for hate speech between the country's political rivals. Authorities have expressed specific concern about negative discussion of the monarchy and the military junta.
In June, Thai police announced they would ask for "cooperation" from LINE headquarters to suspend accounts of anti-coup dissenters and "spy" on numerous chatrooms to look for criminal messages. The plan did not appear to come to fruition.