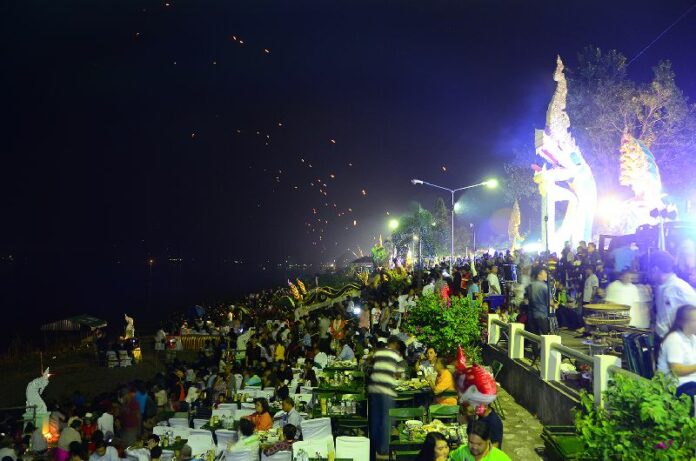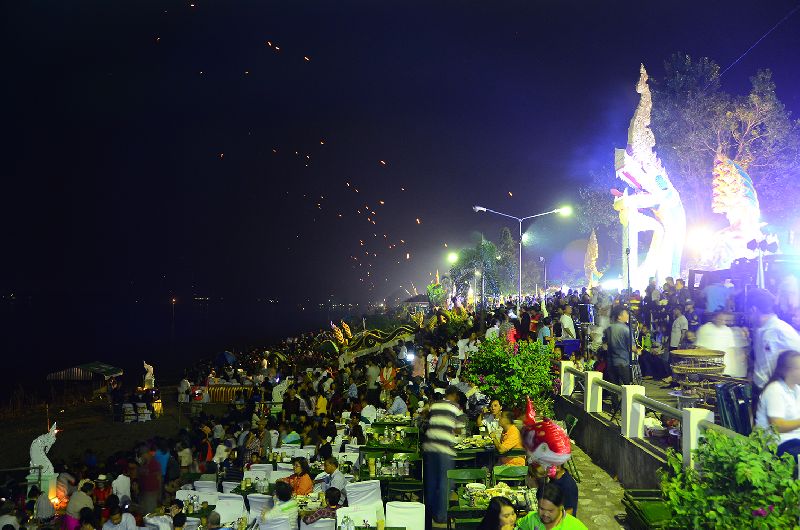 BANGKOK — Provincial authorities in Nong Kai province barred former Prime Minister Yingluck Shinawatra from attending a local festival last night due to unspecified "concerns," said a spokesperson from Thailand's military junta.
Yingluck was scheduled to open the annual 'Naga Fireball Festival' in the northeastern province last night, but aides said she was asked to cancel the trip at last minute.
Col. Winthai Suwaree, spokesperson of the junta's National Council for Peace and Order (NCPO), confirmed yesterday that Nong Kai's Governor and "security agencies" decided it was not appropriate for the former leader to make a public appearance at the ceremony.
"If Ms. Yingluck traveled there to open the festival, many people would attend, and it would risk making the general populace to view [her appearance] in an inappropriate way," Col. Winthai said.
Yesterday afternoon, locals were forced to take down a massive poster that welcomed "Her Excellency, Ms. Yingluck Shinawatra, The 28th Prime Minister of Thailand."
Col. Winthai added that the decision was jointly reached by the Governor of Nong Kai province, military officers, and administrative officials, but that the NCPO played no part in the process.
Yingluck and her brother, influential former Prime Minister Thaksin Shinawatra, have remained immensely popular among their support base in the northern and northeastern regions of Thailand – the birthplace and stronghold of the Redshirt movement.
After a landslide poll victory in 2011, Yingluck held the premiership until she was ousted in a judicial ruling in May 2014. Days later, the military dismantled what was left of her administration after staging a coup d'état.
Yingluck was briefly detained by the military after the coup and forced to promise to refrain from participating in any political activities. She has kept a relatively low profile since then, with the junta enforcing its ban on political gatherings or activities that could be seen as undermining its authority.
Meanwhile, over 293 "fireballs" were spotted during last night's ceremony along the shores of Mekong River, the natural border between Thailand and Laos.
Locals believe the "fireballs" were spewed by a mystical beast, the Great Naga, which resides in the river – a Thai equivalent to Scotland's Loch Ness Monster. The annual event drew thousands of locals and tourists who camped out along the river to observe the "miracle."
However, it is believed that the fireballs were in fact a combination of fireworks and incendiary rifle rounds fired from the ground.
For comments, or corrections to this article please contact: [email protected]