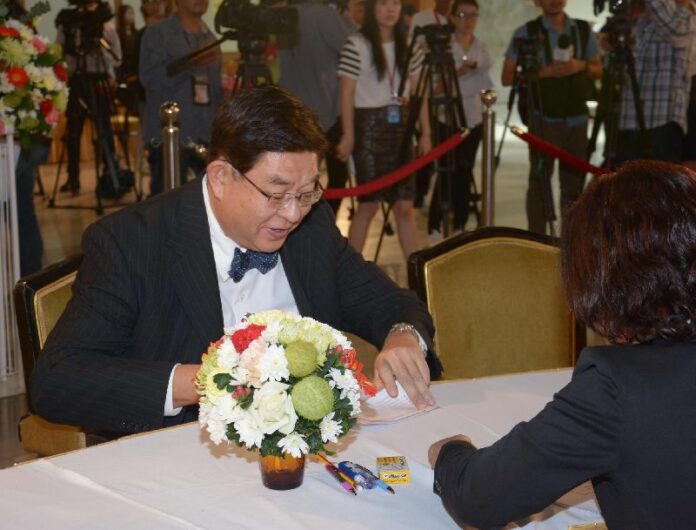 BANGKOK — A prominent member of the recently-formed National Reform Council (NRC) says the reform process will benefit all Thais, except those like former Prime Minister Thaksin Shinawatra "who abuse their power."
"'The drafting of the Constitution needs to produce long-term benefits without bias against any individual, but if the drafting is meant to prevent people who abuse their power – people like Thaksin – from entering politics, it can be done," Jermsak Pinthong said yesterday.
"Personally, I intend to reform the power wielded by the state, especially the aspect of election," he added, without elaborating on the details.
Jermsak is a staunch anti-Thaksin critic and former leader of the protest group that staged street demonstrations against Thaksin's sister, former PM Yingluck Shinawatra, for seven months until the military intervened and staged a coup on 22 May.
Other core leaders of the protest movement, such as Naowarat Pongpaiboon, Sombat Thamrongthanyawong, and Charas Suwanmala, were also appointed by the junta to join the NRC.
The NRC has been tasked with implementing sweeping reforms over the next year before a national election is held, schedueld for October 2015 at the earliest. This "roadmap to democracy," as the junta calls it, closely resembles the former anti-government protesters' demands for "reforms before election."
Many Redshirts and critics of the coup say the NRC's membership was lockspec, or rigged by the junta to create a body bent on eliminating Thaksin's influence from Thai politics.
Although Thaksin currently lives in self-imposed exile to avoid corruption convictions, he is believed to retain significant influence over political actors and organisations inside the Kingdom. Thaksin-backed parties have won every national election since the former telecoms tycoon was ousted in a coup in 2006.
Speaking to reporters yesterday, Jermsak dismissed the allegation that the NRC was biased, and said the reform council intends to "mobilise" opinions from different sectors of the public to ensure the reforms are inclusive.
"I think there should be a referendum for the new Constitution, so that the people are involved in the reform process," Jermsak said. "It's also to prevent political parties that win elections in the future from claiming a popular mandate and altering the Constitution."
Jermsak appeared to be referencing the recent attempt by pro-Thaksin politicians to amend the 2007 Constitution to make the Senate fully elected, instead of half-appointed, half-elected. Jermsak was appointed to draft that now-defunct Constitution following the 2006 coup.
Meanwhile, another NRC member, political science professor Amorn Wanichwiwat, promised to reform Thailand with a "Buddhist moral system" that only allows "Good People" to take political office.
"There has to be a selection process for the legislative and administrative branches, to screen for good people and moral people who follow the teachings of Buddhism, especially the Five Precepts," said Amorn, who, like Jermsak, was a drafter of the 2007 Constitution.