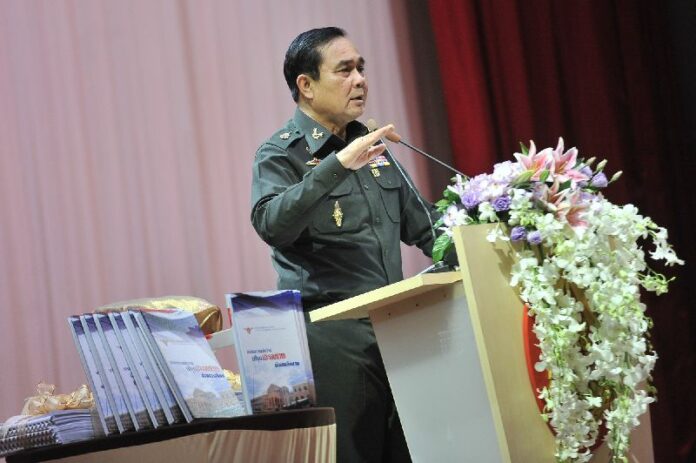 BANGKOK — The former ruling Pheu Thai Party is not plotting against the military junta that ousted its government in May, a former Pheu Thai politician said today.
"Please rest assured that no one in the Pheu Thai Party will obstruct the workings of the government or the NCPO," said former Pheu Thai MP Somkid Cheuwong, using an acronym for the junta's National Council for Peace and Order (NCPO).
Somkid was responding to allegations made by NCPO leader and Prime Minister Prayuth Chan-ocha that there is an "underground movement" intent on undermining the junta's grip over Thailand.
"I don't know if the Prime Minister meant Pheu Thai Party when he mentioned an underground movement," Somkid said. "If he does, I'd like to assure him not to worry. Please relax … I'd like the government to continue their administration of the nation.
The former lawmaker also expressed confidence that the military-backed government will be able to work efficiently without any opposition to scrutinize or obstruct their works.
"I think the government will find it easier to work in this atmosphere," Somkid said.
Gen. Prayuth, who recently retired as commander-in-chief of the Royal Thai Army, declared martial law and staged a coup against the Pheu Thai-led government on 22 May, following six months of street protests aimed at toppling the administration.
After the coup, the NCPO banned all political activities, summoned and briefly detained hundreds of politicians and activists deemed sympathetic to Pheu Thai, and announced that an election will not be held until "national reforms" and "national reconciliation" are completed.
Despite previous threats of a mass uprising in the event of a coup, many Pheu Thai leaders have chosen to take a low profile under the junta's rule. A few Pheu Thai politicians, such as former minister Jarupong Ruengsuwan, fled the country and formed an anti-coup organisation in exile, but much of the party leadership has distanced themselves from the effort.
Nevertheless, the military junta claimed it must retain martial law over the country to prevent an unspecified "underground movement" from wreaking havoc.
For comments, or corrections to this article please contact: [email protected]
You can also find Khaosod English on Twitter and Facebook
http://twitter.com/KhaosodEnglish
http://www.facebook.com/KhaosodEnglish