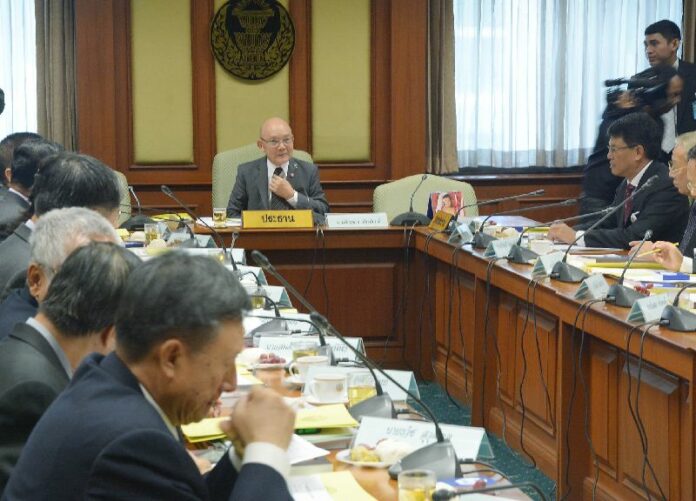 BANGKOK — A prominent member of the National Reform Council (NRC) has insisted that the constitutional drafting process will not be controlled by Thailand's military junta, who launched the reform effort after seizing power in May.
The NRC's temporary whip, Alongkorn Polabutrh, assured skeptics that the junta, formally known as the National Council for Peace and Order (NCPO), will not predetermine the outcome of the new charter, state media reported.
He also reportedly insisted that the 20 NRC members recently chosen to sit on the constitution committee were selected because they are knowledgeable about a diverse range of issues. They hail from four regions of the country, and 20 percent of them are women, he said.
His comments came in response to accusations that the junta has "lock-spec," or rigged the reform process to reflect its own political agenda.
After seizing power in coup d'etat on 22 May, the NCPO suspended democracy in Thailand to install an interim government tasked with reforming the country across a wide range of spheres.
The junta says the reforms are intended to achieve "national reconciliation" between Thailand's fiercely divided political camps, but critics say the NCPO's exclusion of dissenting voices calls the sincerity of this goal into question.
The junta hand-picked the members of the interim government's NRC and National Legislative Assembly (NLA), both of which are dominated by military men and loyal NCPO allies.
The Constitution Drafting Committee, currently in the process of being formed, will consist of 20 members from the NRC, five from the NLA, five from the Cabinet – which is led by coup-leader turned Prime Minster Gen. Prayuth Chan-ocha – and five from the NCPO itself.
Earlier this week the NRC considered letting five "outsiders" sit in on the charter committee, such as members of the political groups whose fierce disagreements led to the coup, but the proposal was shot down in a vote on Monday.
According to Thai blogger Saksith Saiyasombut, "What all these developments show is that the so-called 'reform' process initiated by Thailand's military junta is nothing but a smokescreen for a short-sighted, one-sided revamp of the political system, aimed at excluding their political rivals at the risk of disenfranchising at least half the country."
The NLA is expected to select its five representatives for the charter committee today.
Read more:
Reform Council Stacked With Engineers of Pre-Coup Protests
Reforms to Be Unbiased, Except Against 'People Like Thaksin': NRC Member
Reform Council Exempted From Asset Scrutiny
For comments, or corrections to this article please contact: [email protected]
You can also find Khaosod English on Twitter and Facebook
http://twitter.com/KhaosodEnglish
http://www.facebook.com/KhaosodEnglish