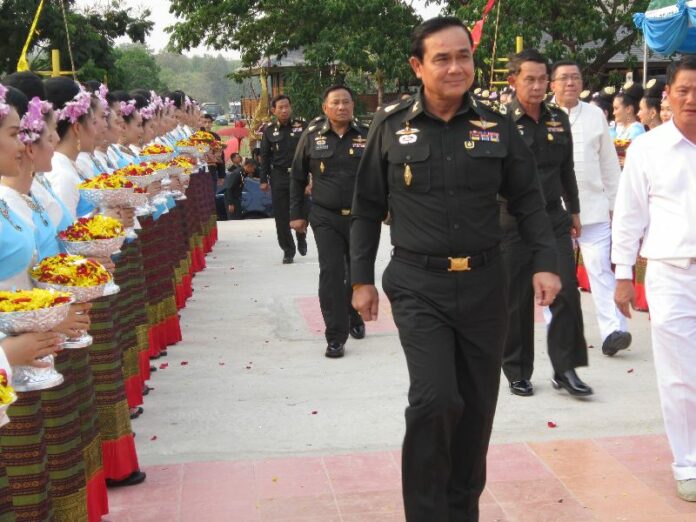 BANGKOK — Junta chairman and Prime Minister Gen. Prayuth Chan-ocha says he doesn't intend to bring up any sensitive issues during his official visit to Cambodia, which begins today.
Prayuth told reporters that he and his Cambodian counterpart, Prime Minister Hun Sen, will discuss how the two countries can cooperate in the areas of trade, investment, tourism, and decreasing illegal logging along the border.
However, sensitive issues like territorial disputes are off the table, Prayuth said.
"I have talked to Hun Sen and Tea Banh, deputy Prime Minister and Minister of National Defense of Cambodia, several times about the Preah Vihear case and we agreed not to bring up the issue during our latest meeting," said Prayuth, referring to a land controversy over a temple near the Thai-Cambodian border.
Yet Prayuth said he would propose promoting tourism packages that involve visiting sites in both countries, which could include a trip to the disputed temple.
"They could travel around Thailand for 3 days then explore in Cambodia for a couple days," Prayuth said. "And this plan might as well include a trip to Preah Vihear."
Prayuth is expected to sign two other memorandums of understanding (MOUs) with Cambodian officials during the trip, concerning a joint effort to combat human trafficking and the construction of a railway linking the two countries.
Relations between the two countries have fluctuated over the years, mostly over border disputes and Cambodian Prime Minister Hun Sen's alleged support of the Shinawatra clan, who led the government ousted in the 22 May coup.
The two-day visit is Prayuth's third official trip out of the country since he seized power in a coup d'etat in May and was chosen to be Prime Minister by his rubber-stamp parliament in August.