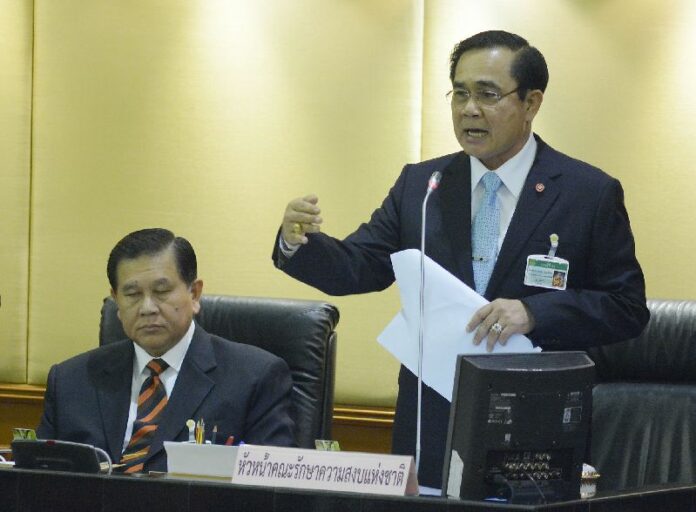 BANGKOK — Thailand's national anti-graft agency has published the assets of coup-leader turned Prime Minister Prayuth Chan-ocha and his cabinet, revealing that one third of the ministers are worth more than 100 million baht.
Prauyth, the former army chief who led a coup on 22 May, declared 128 million baht in net assets – which is nearly 4 million in US dollars – and 645,754 baht in debt.
The wealthiest of the 33 ministers appears to be Deputy Prime Minister Pridiyathon Devakula, with 1,378 million baht in assets and no debt to his name. Next in line is Panadda Diksul, who runs the Office of the Prime Minister, and declared 1,315 million baht in assets, also with no debt.
According to the report, the poorest Cabinet member is Education Minister Narong Pipatanasai with 6.95 million baht in assets and 2.92 million baht in loans.
After leading a coup in May, Prayuth was chosen as Prime Minister by the rubber-stamp parliament he appointed in August. Nearly a third of his Cabinet members are military men.
Although initially reluctant, Thailand's National Anti-Corruption Commission (NACC) eventually ordered Prayuth and his cabinet to declare their assets, which all holders of political office are normally required to do by law.
Members of the junta-appointed National Legislative Assembly were also ordered to declare their financial holdings in August. However, the NACC recently ruled that the National Reform Council, which will be spearheading a year-long reform effort, is exempt from the order because their work is "academic," not political.
"They do not have to declare their assets because they will only perform academic works," said NACC spokesperson Wicha Mahakulon 21 October. "They have no stake in politics."
The council, also hand-picked by Prayuth, has been tasked with proposing reforms across a variety of sectors, including the country's politics, public administration, judiciary, local government, and mass media, among others.