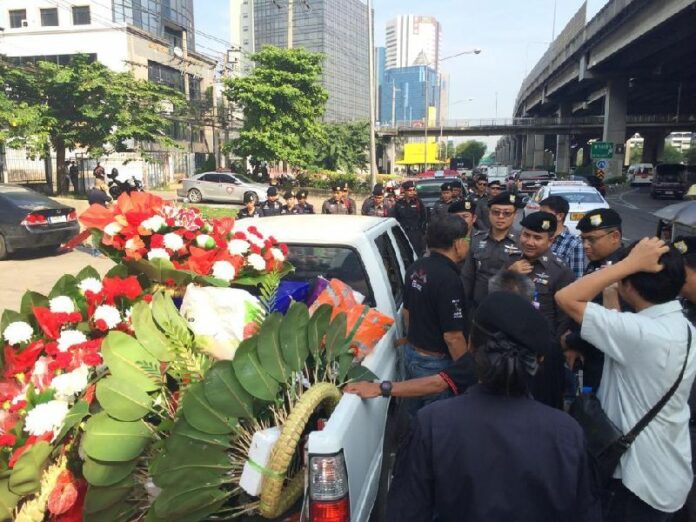 BANGKOK — Police have blocked a group of student activists from commemorating the death of a taxi driver who hung himself from a bridge in northern Bangkok to protest the 2006 military coup.
Approximately 100 police officers were stationed at the pedestrian bridge starting at 7am this morning, Prachatai reported.
The officers reportedly stopped seven student activists from laying wreaths at the bridge and observing a moment of silence. After a '90 minute' negotiation with the officers, the students were accompanied to take taxis back to their university.
Political gatherings are banned under orders from Thailand's current military junta, which seized power in a coup on 22 May, 2014.
"When I looked in their eyes, they looked so tried," said Than Rittiphan, an activist with the Thai Student Center For Democracy (TSCD). "It seems like they stayed up over night to prevent this from happening. I'm concerned that they are victims of this system too."
He continued, "It's so unfortunate that one hundred of them had to stay…just to prevent unarmed civilians and flowers. Who ever ordered them must be so panicked."
However, a prominent Redshirt lawyer, Anon Nampha, was later allowed to lay a wreath at the bridge after negotiating with police for 30 minutes, Prachatai reported.
The wreath was laid for Nuamthong Praiwan, who took his own life eight years ago today.
On 30 September 2006, Nuamthong rammed a taxi painted with an anti-coup slogan into a military tank that was stationed in Bangkok's Royal Plaza. He was injured by the incident, which he said was an act of protest against the coup. He also told the press he was willing to die in the attack.
However, a deputy spokesperson for the military junta, Col. Akkara Thiproj, dismissed Nuamthong's words and claimed that "nobody's ideals are so great that they would sacrifice their lives for them."
A month later, Nuamthong hanged himself from a pedestrian bridge on 31 October 2006. He wrote in a suicide note that he wanted to prove Col. Akkara's "insult" wrong. He also wrote that the date of his suicide was chosen as a tribute to the popular uprising against a military dictatorship in October 1973.
"I'd like to tell my children and my wife to be proud of me. Do not be sad. I hope I will not see another coup in my next life," Mr. Nuamthong wrote in the letter.