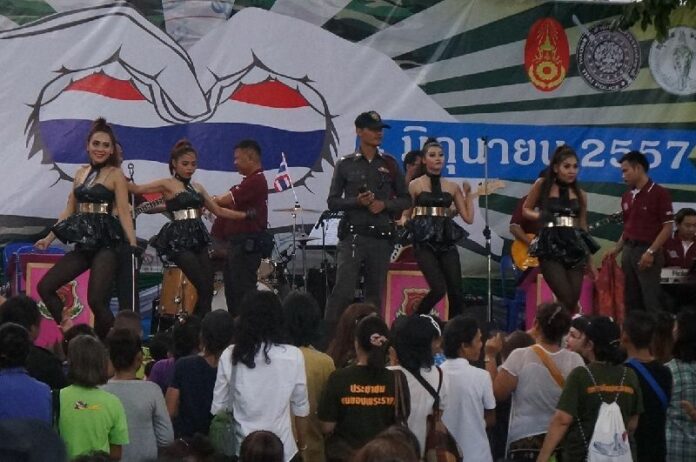 BANGKOK — Thailand's Minister of Interior Affairs has downplayed his financial ties to the company that was contracted by authorities to organise several PR events for the military junta earlier this year.
Anupong Paochinda, a former commander-in-chief of the Thai army and member of the junta's National Council for Peace and Order (NCPO), is listed as a former board member and current debt guarantor for Plueksapan Pattana Company, Isra News reported earlier this week.
According to the report, Plueksapan Pattana is the same company that received a 20 million baht contract from Thai authorities to organise a "Returning Happiness to the People" fair in Nonthaburi province this September.
Speaking to reporters yesterday, Gen. Anupong admitted that he used to serve as a board member of the company, but insisted that he is no longer involved with the firm except for his role as a debt guarantor.
"I always had a dream to do some business in the field I am a bit familiar with, which is real estate," Gen. Anupong said. "So my close friends started this company and invited me to serve on the board, but I did not have any stocks in the company because I didn't have enough money for investment."
He continued, "I only volunteered to take care of the construction. As for the marketing and fund-raising, I had no hand in those operations."
Gen. Anupong was chosen last month to serve in the Cabinet of Gen. Prayuth Chan-ocha, the retired general who led a military coup on 22 May and is now Prime Minister in addition to chairman of the NCPO.
After seizing power, the NCPO staged dozens of PR events around the country with the theme of "Returning Happiness to the People." The fairs featured free concerts, food, haircuts, and medical checkups for the public.
Gen. Anupong added that he is confident that his role in Plueksapan Pattana company is well within the scope of the law.
"If you discover that I have any illegal conflict of interest, you can prosecute me under the law," he said.
When a reporter asked Gen. Anupong whether he believes the report by Isra News will affect his credibility, the retired general replied that he is not concerned by that possibility.
"If the people lose their trust in me because of what [the media] has published, that means I don't have much legitimacy anyway," Gen. Anupong said. "If there is a day that I ever damage the reputation of the government, I will even offer my resignation."