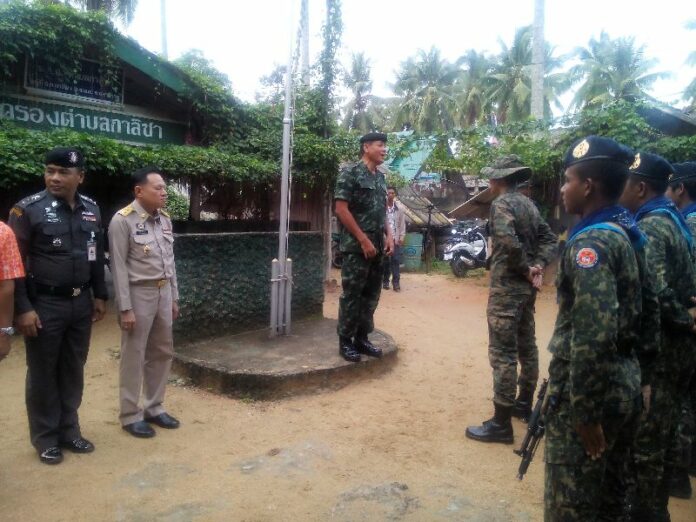 PATTANI — Three soldiers were killed and two others seriously injured in the tumultuous southern province of Pattani after a private opened fire during a heated argument this morning, officials said.
Prior to the shootings, the soldiers were drinking alcohol in a boy scout camp in Bo Thong district, which also serves as a barrack for troops stationed in the province, police officers at Nong Chik Police Station told reporters.
The soldiers were members of a task force stationed in Pattani to combat Islamist separatist groups that have been mounting attacks against security forces in the region.
After an argument between the men escalated, the private fetched his automatic rifle and opened fire on the group, killing three, police say.
The private, who has not been identified by name, reportedly tried to commit suicide afterwards but survived. He has been sent to a hospital along with the two other soldiers who were wounded in the shooting.
Police say they are investigating whether the private has had any history of stress caused by operations in the region.
The incident came several days after the Internal Security Operation Command (ISOC) announced a plan to establish a new "marine" unit to combat Islamic insurgents in Pattani and its two neighbouring provinces, Yala and Narathiwat.
Tens of thousands of troops, policemen, and armed volunteers are already deployed in the three border provinces, known as the 'Deep South,' where more than 6,000 people have been killed since separatist violence broke out in 2004.
Human rights activists have documented many cases of brutality and abuse of power by security forces in the region, which has alienated much of the Muslim-dominated populace from Thai authorities.
In August, a volunteer ranger admitted to killing a local 14-year-old boy and planting a firearm on his body to falsely implicate him as an insurgent.
A month later, the court threw out a lawsuit by a man who alleged that security officers in Narathiwat province tortured his brother during his military custody. According to the court, the lawsuit's claim that Thai citizens are protected from human rights abuses under the 2007 Constitution was invalid because the charter was dissolved following the military coup in May 2014.
Read more:
Military To Send More Guns, Volunteers To Restive South
Rights Group Urges Prosecution of Troops For Killing Teenager in Deep South
Southern Schools Re-Open Amid Assassination Sprees