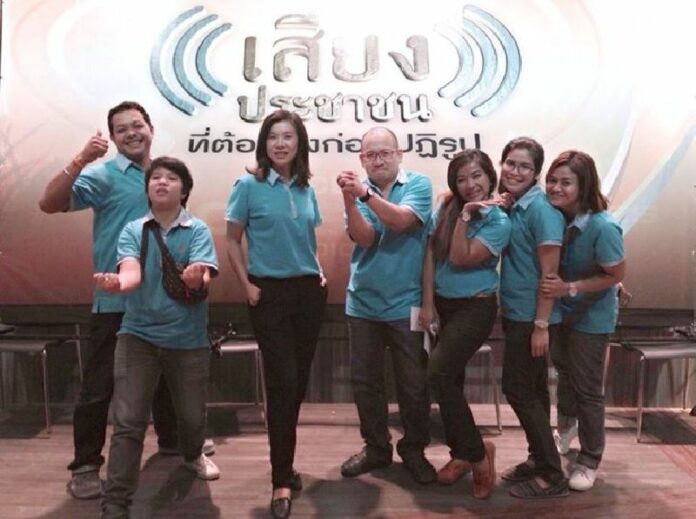 BANGKOK — Thailand's army chief has insisted that it was necessary to order a state-owned TV station to drop a talk show that was airing complaints from the public about the 22 May coup.
Gen. Udomdet Sitabutr, commander-in-chief of the Royal Thai Army and Deputy Minister of Defence, was the first high-ranking official to publicly admit that the military instructed Thai PBS to drop a talk show in which southern villagers and activists were asked about their opinions about the junta's reform process and the military coup on 22 May 2014.
Isra News previously reported that at least four colonels visited Thai PBS's headquarters in Bangkok to voice their dissatisfaction with the show, called "Voices of the People That Must Be Heard Before the Reform." The station later said in a statement that the show's host, Nattaya Wawweerakhup, has been "temporarily" removed from the program.
Gen. Udomdet insisted that the visit was "not an order to suspend anything," and that military was merely reacting to "an attitude that displays mis-understanding about some matters" which deserved "conversation."
"Some actions [by the media] may lead to more negative consequences than positive ones," said Gen. Udomdet, who succeeded Prime Minister and junta chairman Prayuth Chan-ocha as the Thai army's chief in early October. "But we didn't do anything much. We merely asked for their understanding."
Gen. Udomdet also told reporters that the military has been in "constant" contact with some TV stations since the coup on 22 May.
"Nowadays, the measure has greatly decreased, but there is still necessity to engage in conversations with some media agencies, because what they display sometimes affects the [Thailand's] image in a negative way," Gen. Udomdet said.
He continued, "So we felt it was necessary to talk [to Thai PBS] and ask for their cooperation. We ask that those in charge of all types of media have understanding and cooperate with us. If we feel that some media reports, once broadcast out there, may lead to disorder or inappropriate consequences in the current situation, we will ask for cooperation, because we need to maintain peace and order."
This week's incident is latest crackdown on the press by the junta's National Council of Peace and Order (NCPO) after it staged a coup against the elected government on 22 May 2014. Since seizing power, the junta has banned any criticism of the regime, crushed any political protests, and briefly detained hundreds of activists.
In a meeting between the junta representatives and editors of 17 newspapers on 12 November, military officers also reportedly told the journalists that there is a limit to what they can report.
"Gen Prayut Chan-ocha, the Prime Minister and NCPO leader, has never censored the media. We are open, but please stay within the limits. [We] don't want any colour. [You media] must report news positively," Lt.Gen Suchai Pongput was quoted as saying.
For comments, or corrections to this article please contact: [email protected]
You can also find Khaosod English on Twitter and Facebook
http://twitter.com/KhaosodEnglish
http://www.facebook.com/KhaosodEnglish