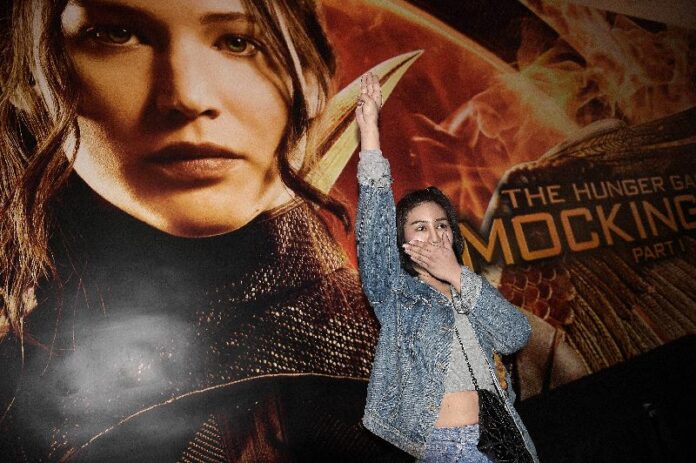 BANGKOK – A top official of the Thai government warned that Hollywood might be laughing at Thailand for adopting the "three-finger salute" from The Hunger Games movies as a symbol of resistance against the military junta.
According to Panadda Diskul, secretary to the Office of Prime Minister, anti-coup activists in Thailand are misusing the salute, which was originally used by characters in "The Hunger Games" universe to defy the autocratic regime in the fictional dystopia.
"I fear that Hollywood might be laughing at us because, as far as I know, there's only one scene of the film that featured the three-finger salute," Panadda told reporters on Sunday during his visit to a state-run childcare shelter. "Its meaning is fictional. It's a Hollywood work. It shouldn't be used to create conflict among the people of our nation."
Anti-coup activists adopted the gesture in late May to protest against the military coup on 22 May 2014, prompting the military junta's National Council of Peace and Order (NCPO) to outlaw the salute, along with other innocuous activities associated with anti-coup sentiment, such as eating sandwiches in groups, and reading George Orwell's Nineteen-Eightyfour in public.
When the latest installment of the Hunger Games trilogy, "Mockingjay Part One," premiered in Thailand last week, police arrested a student for flashing the three-finger salute in front of Siam Paragon cinema in Bangkok's shopping district. Two other students were also arrested because of their alleged role in organising a mass screening of the film.
All of the students were later released without charges.
"They [the activists] should not take movies so seriously, and use them to create conflict in the society," Panadda said on Sunday. "We are all Thais, we are the same nation."
The official was visiting Rajvithi Home yesterday to oversee a taping of "Sing the Father's Song For His Heart," a new music video in which children at the shelter home sing songs penned by His Majesty the King. The video is a part of the government's campaign to celebrate King Bhumibol's 87th birthday on 5 December.
Panadda said every Thai should pray for a speedy recovery for His Majesty the King, who is currently staying at Siriraj Hospital in Bangkok.
For comments, or corrections to this article please contact: [email protected]
You can also find Khaosod English on Twitter and Facebook
http://twitter.com/KhaosodEnglish
http://www.facebook.com/KhaosodEnglish