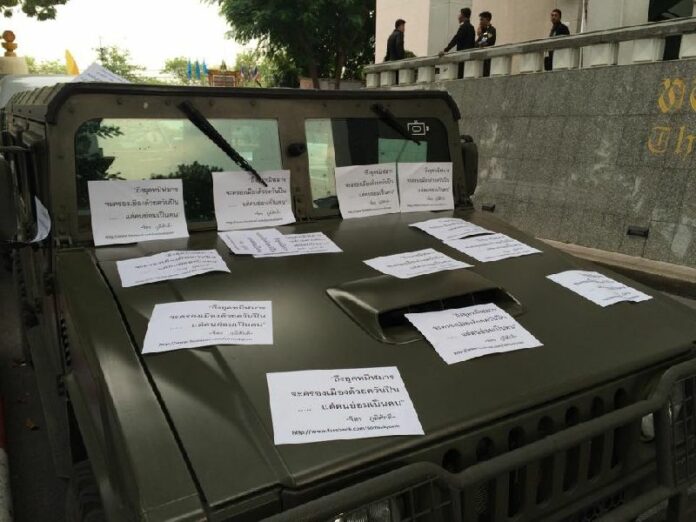 BANGKOK – Police have arrested eight student activists for distributing leaflets that celebrated a prominent critic of the Thai monarchy who recently spoke out after six months of silence.
The eight students were stopped by police officers while they were throwing flyers around Thammasat University's Tha Prachan Campus in Bangkok's historic district this afternoon.
The leaflets read: "Even in the ruthless era when evils rule the country with their guns … people are still people," an excerpt from a poem by the late historian and activist Chit Phumisak, who was executed by authorities in 1966.
The text was also posted by Thammasat historian Somsak Jeamteerasakul on 22 November on his Facebook account when he announced that he was alive and well at an undisclosed location.

An activist holding a flyer with the poem and a URL link to Somsak Jeamteersakul's Facebook profile (Photo from LLTD facebook page)
Somsak, one of few academics to openly criticise the Thai monarchy, went into hiding after the military staged a coup on 22 May 2014.
Any remarks deemed offensive to the Thai monarchy are punishable by up to 15 years in prison according to Section 112 of the Criminal Codes, a law known as lese majeste. The draconian law effectively renders any discussion of the monarchy taboo.
When Somsak, 56, did not report to the junta after he was summoned in June, authorities issued a warrant for his arrest.
Today's tribute to the fugitive historian was organised by the League of Liberal Thammasat for Democracy (LLTD), an anti-coup student group based in Thammasat. The group has had numerous runs-in with authorities in the past several months for its criticism of the 22 May coup.
Six students are being held at Chanasongkram Police Station, while two others have been sent to Samranrat Police Station.
One of the detained students is Natchacha Kongudom, a Bangkok University student who was previously arrested for flashing the forbidden "three finger salute" in front of Siam Paragon cinema in Bangkok downtown on 19 November.
"This is truly the era where evils indeed rule the nation, and they are an insane bunch, too," Somsak wrote on his Facebook in response to the arrests of the eight students.
Since staging the coup on 22 May, the junta, which is formally known as the National Council of Peace and Order (NCPO), has banned all public protests, censored the media, and detained hundreds of academics, activists, and politicians briefly at military camps for "attitude adjustment."
The junta has also stepped up its effort in cracking down on what it perceives to be "threats" to the monarchy – a powerful institution in Thailand that is thought to be extremely close to the Thai military.
For comments, or corrections to this article please contact: [email protected]
You can also find Khaosod English on Twitter and Facebook
http://twitter.com/KhaosodEnglish
http://www.facebook.com/KhaosodEnglish