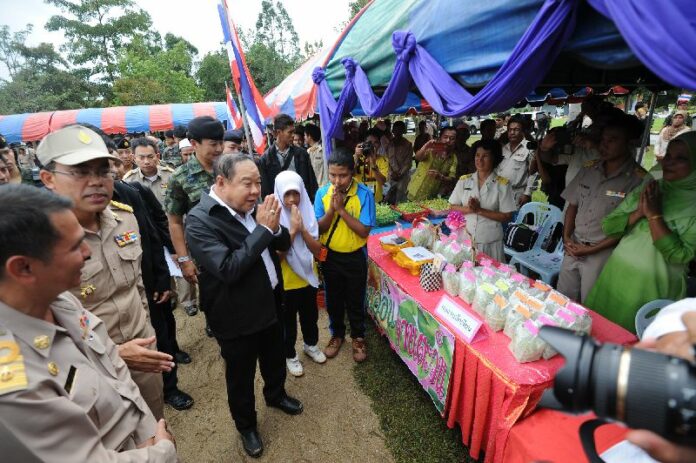 NARATHIWAT – Deputy Prime Minister Prawit Wongsuwan has promised to allocate more funds to arm residents in Thailand's three southern provinces, where security forces have been battling separatist insurgents for a decade.
Gen. Prawit, who also serves as a member of the ruling military junta, said during a tour of Narathiwat province today that he is willing to inject more than 20 billion baht from the state budget into "Thung Yang Daeng Model," a military program aimed at training local residents to deter insurgents from launching attacks on civilian targets.
Under the model, communities in the restive provinces of Yala, Narathiwat, and Pattani – known colloquially as the Deep South – would be given weapons, CCTVs, and warning systems that would alert nearby military units immediately in case of an attack.
"I will approve a budget of at least 20 billion baht to expand Thung Yang Daeng Model to cover 37 districts [of the Deep South] and four districts of Songkhla province," Gen. Prawit told an audience in Rueso district today.
According to Thai authorities, the model is currently being implemented only at Thung Yang Daeng village in Pattani, where insurgents have launched several attacks on civilians in recent months.
More than 6,200 people have been killed in the Deep South since the latest wave of separatist violence broke out in 2004. The bloody campaign is waged by a variety of shadowy militant groups who aim to revive the independent sultanate of Pattani, which had been independent for hundreds of years before it was incorporated into modern Thailand in the early 20th century.
Even before the Thung Yang Daeng model, authorities were arming "village defence volunteers" in the Deep South, where suspected insurgents stage roadside bombings and drive-by shootings against troops and civilians almost on a daily basis.
The military's reliance on armed residents and "Rangers" – volunteers recruited and trained as a paramilitary force by Thai authorities – has drawn criticism from some civil rights experts who say some of these volunteers have committed human rights abuses.
In September, for instance, a Ranger admitted to murdering a 14-year-old Muslim boy and then planting a firearm in his hand in an attempt to frame him as an insurgent.
Today, a group of the village volunteers, armed with handguns and rifles, demonstrated their combat skills in front of Gen. Prawit during his visit to Narathiwat province, drawing applause from the Deputy PM and other high-ranking officials.
Gen. Prawit said the military will also focus on improvement of infrastructure in the Deep South, not only military buildup.
"I will instruct all relevant agencies to speed up the construction of 37 roads in the three southern border provinces," Gen. Prawit said. "This is basic infrastructure of the people. When civilisation reaches the region, the evil things will be erased, and there will be a change for the better."
For comments, or corrections to this article please contact: [email protected]
You can also find Khaosod English on Twitter and Facebook
http://twitter.com/KhaosodEnglish
http://www.facebook.com/KhaosodEnglish