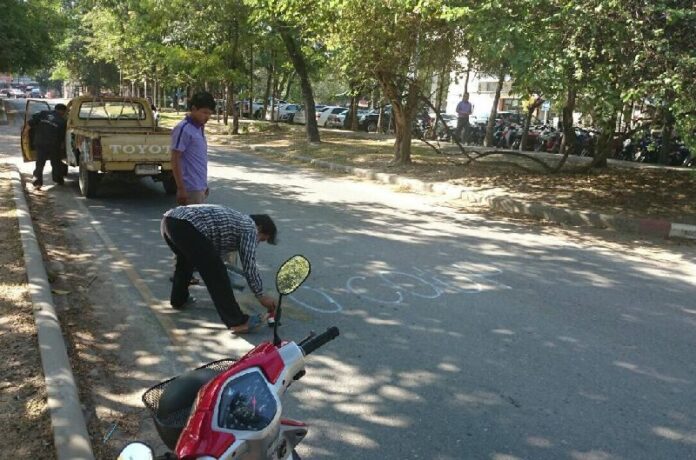 BANGKOK – Student activists in Chiang Mai province called off a symbolic anti-coup "lunch talk" after soldiers were deployed at their university this morning.
The students previously posted an announcement on the social media inviting members of the public to have lunch with them and discuss the political situation in post-coup Thailand in front of Faculty of Laws building at Chiang Mai University.
Dozens of soldiers arrived at the university this morning, presumably to block any activity by the anti-coup students. The students then decided to cancel the event.
Nevertheless, graffiti with the words "No Coup" were spotted in three locations inside the university campus at around 9 am today. They were later removed by the university's cleaning staff.
Leaflet arrest
Meanwhile, a man is under arrest in Bangkok for allegedly paid a motorcyclist to dump flyers with anti-coup remarks around Democracy Monument on Ratchadamnoen Avenue in the early morning of 23 November.
The man, Sittithat Laowanichthanapha, was reportedly arrested by a group of soldiers at his residence in Bangkok last night.
Security officers say Sittithat confessed to making the leaflets on his own to voice his opposition to the 22 May military coup. Sittithat reportedly told the soldiers he hired a motorcyclist to distribute the flyers on his behalf, and added that he had no political connection to any party.
Gen. Prawit Wongsuwan, Deputy Prime Minister and a member of the military junta, announced Sittithat's arrest in a press conference this morning, but declined to give any further details.
Since staging the coup against the elected government on 22 May 2014, the junta's National Council of Peace and Order (NCPO) has banned any public protest against its regime, and tried those who violate the ban under the military tribunal, where appeals are not permitted.
The junta's intolerance for any dissent has led the New York-based Human Rights Watch (HRW) to criticise the NCPO for its failure to respect basic rights of Thai people in its statement yesterday.
"Respect for fundamental freedoms and democracy in Thailand under military rule has fallen into an apparently bottomless pit," Brad Adams, Asia director at HRW in the statement, "Six months after the coup, criticism is systematically prosecuted, political activity is banned, media is censored, and dissidents are tried in military courts."
Read more: Universities Told To Curb Students' Anti-Coup Protests
For comments, or corrections to this article please contact: [email protected]
You can also find Khaosod English on Twitter and Facebook
http://twitter.com/KhaosodEnglish
http://www.facebook.com/KhaosodEnglish