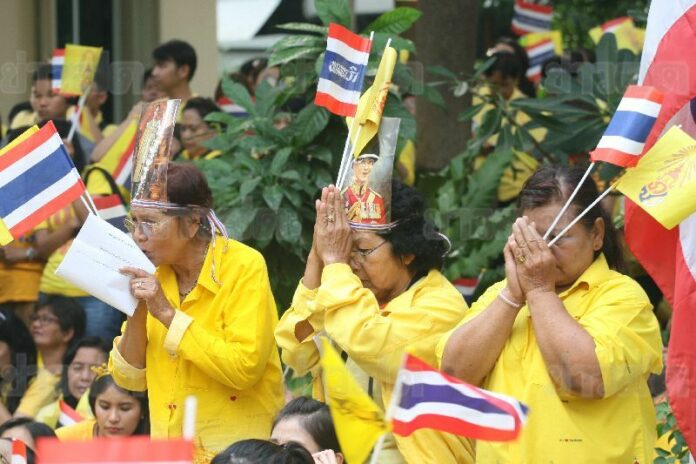 BANGKOK — The Crown Prince of Thailand attended a religious service to mark the 87th birthday of his father, King Bhumibol, at the Grand Palace today.
At the ceremony, Crown Prince Vajiralongkorn made merits to monks on the behalf of his father, who could not attend the event for health reasons. The 87-year-old monarch is being treated for several illnesses at Siraraj Hospital in Bangkok.

Crown Prince Vajiralongkorn making merits to monks on the behalf of His Majesty the King, 6 December 2014.
The king was expected to make an appearance yesterday – his 87th birthday – but doctors requested that His Majesty not leave the hospital due to his health.
The Crown Prince, who is the next in line to the throne, was accompanied by his daughter, Princess Siriwanwaree Nareerat. His wife, Princess Srirasmi, was not present at the religious service.
After initial reports that the King would make a public appearance on his birthday, hundreds of Thais camped out by Siriraj Hospital in yellow shirts – the King's colour – to catch a glimpse of the revered monarch. The king's birthday, 5 December, is a public holiday designated as the "national day" and "father's day" of Thailand.
His Majesty was rushed to Sririaj Hospital two months ago with a high fever and rapid heartbeat. The king later underwent a surgery to remove his gallbladder, which doctors said was infected.
On 13 November, the palace said His Majesty was also suffering from an intestinal infection, but that his overall health was improving.
The king's frail health is a cause of anxiety for many Thais. The monarch is widely credited with bringing stability to the Kingdom during his more than 60 years on the throne.
King Bhumbiol's last public appearance was on 23 November when he granted an audience to Gen. Prayuth Chan-ocha, the Prime Minister and former army chief who led the military coup against the elected government in May.
For comments, or corrections to this article please contact: [email protected]
You can also find Khaosod English on Twitter and Facebook
http://twitter.com/KhaosodEnglish
http://www.facebook.com/KhaosodEnglish