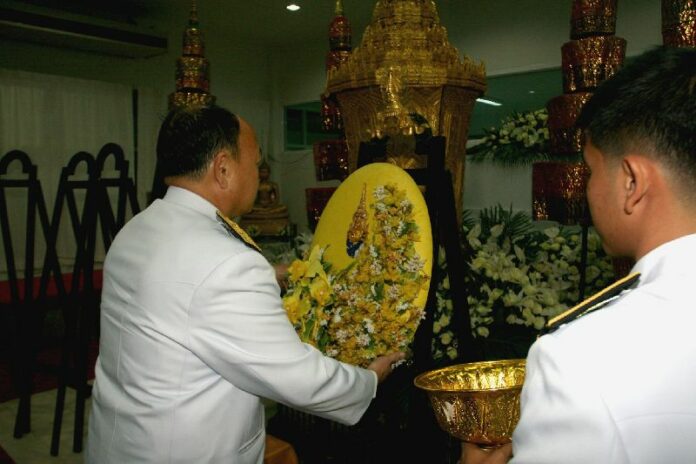 BANGKOK – The Thai army says it will dispatch three officers to "observe" a memorial service for a recently deceased member of Matichon's executive board, out of fear that the event may violate the junta's ban on political gatherings.
Sakchai Bamrungphong was senior adviser to Matichon publishing – the company that owns Khaosod – from 1981 to his death on 29 November 2014, at the age of 96. A panel discussion honouring Sakchai and his works as a writer, journalist, and former diplomat will be held on 14 December at Pridi Banomyong Institute, a popular forum for cultural events in Bangkok.
However, three military officers visited Pridi Banomyong Institute at 5 pm yesterday to inquire about the memorial service, which is titled "Life and Works of Sakchai Bamrungphong."
The officers said they were concerned the event may violate the junta's ban on political activities and public protests.
"I had to insist to them that it's just an event to commemorate the deceased, who has contributed so much to the literary circle of Thailand," said Sindhusawasdi Yodbangtoey, a manager at Pridi Banomyong Institute.
"I also explained to the officers about Pridi Banomyong Institute's cultural activities, and about the life of Mr. Sani Saowapong," Sindhusawasdi added, using Sakchai's well-known pen name.
The officers eventually agreed to allow the Institute to proceed with the talk, but said three security officers will be dispatched to observe the event on 14 December.
Gen. Prayuth Chan-ocha unilaterally imposed the martial law over Thailand on 20 May 2014, ostensibly to prevent anti- and pro-government protests from spiraling out of control. He staged a coup against the elected government two days later.
Security officers have invoked martial law's ban on political activities t0 block several academic discussions and public lectures in recent months that authorities deemed "inappropriate."
In September, the military forced group of activists to cancel a panel discussion on the demise of autocrat regimes around the world, citing the talk's potential to create "divisions in society."
Sakchai, who is commonly known by his pseudonym Seni Saowapong, was a columnist, author, journalist, and diplomat before he was appointed to the executive board of Matichon Publishing Group in 1981, when the company was three years old.
Thai historians frequently characterize him as an influential writer who helped shape the pro-democracy student movement in Thailand, which peaked during the Student Uprising of 1973 that toppled the ruling military junta at the time.
Among Sakchai's best known works are Pisaat (Demon), a novel about injustices suffered by peasants, and Kon Dee Sri Ayutthaya (The Good People of Ayutthaya), a piece of historical fiction that portrays how Thailand's independence was secured by ordinary Thais who fought and died for their country.
Citing his exceptional contributions to Thai literature, the Thai government named Sakchai "The National Artist" in 1990.
The royally-sponsored cremation of the late author will be held on 13 December.
For comments, or corrections to this article please contact: [email protected]