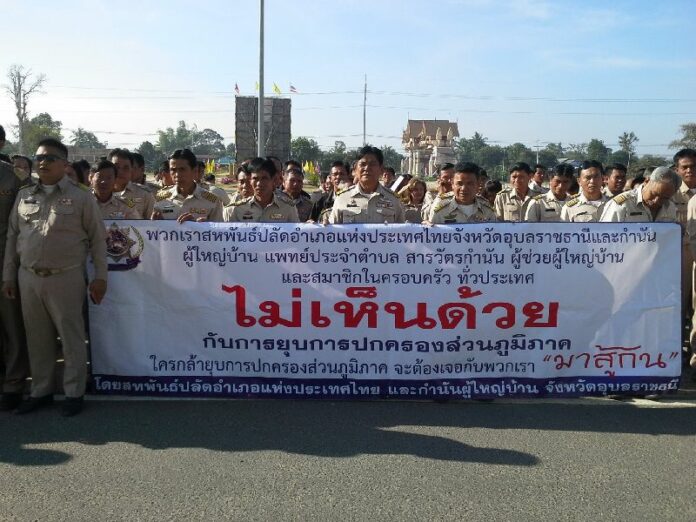 BANGKOK — Hundreds of local officials defied the military junta's ban on public protests today by rallying against a proposal that would allow Thais in every province to elect their own Governors and local administrators.
In at least five provinces, kamnans [subdistrict headmen] and village chiefs gathered in city centres and held banners denouncing the proposal, which was submitted to Thailand's Constitutional Drafting Committee last month.
In Ubon Ratchathani, one official also held up a portrait of King Rama V, the monarch widely credited with establishing a centralised form of bureaucracy in Thailand in the early 20th century.
Other coordinated demonstrations also took place in the provinces of Kanchanaburi, Prachuap Kiri Khan, Pitsanulok, Pattani.

Local officials protest gubernatorial elections in Ubon Ratchathani, Thailand, 15 Dec 2014.
Supot Boonharn, director of the Association of Ubon Ratchathani Kamnans and Village Chiefs, said he believes Thailand "is not yet ready" for democracy at the local level.
"In elections, those with money can simply buy votes from the people, and bad people will become the rulers," Supot said. "It will lead to factionalism. They will only take care of people in their groups or factions."
Under the current system, the Ministry of Interior Affairs in Bangkok appoints Governors for 76 of the 77 provinces in Thailand, with Bangkok as the lone exception. In Bangkok, a Governor is elected every four years.

Kanchanaburi province, 15 Dec 2014.
At a protest in Kanchanaburi today, the province's Governor, Wanchai Osukonthip, said elections aren't necessary because provincial Governors already exercise their power in a localised way. He also denounced the proposal to replace kamnans, who are chosen by village chiefs, with directly elected officials.
"Our country survives to this day because of us. Kamnans and village chiefs are like guard dogs," Wanchai said. "During the Communist insurgency, kamnans and village chiefs were sent to suppress the Communists. Now that the bandits are gone, do you want to murder the guard dogs? Who will guard your home when you don't have us as your guard dogs?"
Although a number of academics and activists have pressed for decentralizing Thailand's government, the latest push for electing provincial Governors came from the largely-conservative movement that campaigned against the former government, known as the People's Committee for Absolute Democracy With the King As Head of State (PCAD).
During a rally in December last year, PCAD leader Suthep Thaugsuban said provincial Governors should be "directly elected by the people." He also called for the dissolution of all local administrative agencies under the Ministry of Interior Affairs, and a more equal distribution of the state budget across local communities.
On 25 November 2014, PCAD representatives petitioned the Constitutional Drafting Committee, a body appointed by Thailand's military junta to write a new charter, urging them to consider the proposal.
However, the suggestion runs counter to the PCAD's central platform during its six-month protest campaign: replacing the central elected government in Bangkok with an unelected "People's Council" to implement "reforms" before the next election. The PCAD also expressed support for the 22 May military coup.

Prachuap Kiri Khan, 15 Dec 2014.
Supot, the leader of today's protest in Ubon Ratchathani, said his group will petition the junta's National Reform Council about their concerns with the proposal.
"If it is not met with success, we will come out to protest again," he said. "We will keep evaluating the situation."
Since seizing power on 22 May 2014, junta leader Prayuth Chan-ocha has banned all political activities and public protests. Some violators have been arrested and tried in military courts.
It is not immediately clear whether the organisers of today's protests will face any repercussions from the junta.
For comments, or corrections to this article please contact: [email protected]