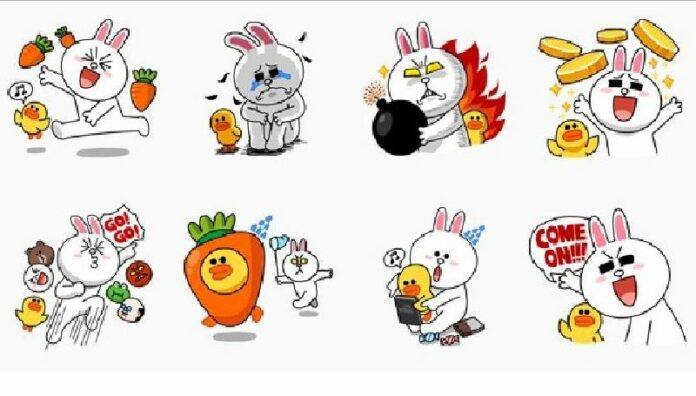 BANGKOK — The Thai government has announced its "New Year's gift" for all Thais: free virtual "stickers" representing the junta leader's moral teachings for the chat application LINE.
The Ministry of Information, Communication, and Technology (ICT) is currently creating the "stickers," which will be available for free on 30 December, said Deputy Permanent Secretary of the ICT, Songpon Komolsuradet.
The stickers will depict the "Twelve Values" that junta leader and Prime Minister Prayuth Chan-ocha wants all Thais to practice, Songporn said. She called the project "a gift for Thai people" on the occasion of the New Year.
"We want to help Thai people know more about the values," Songpon said. "So that they will send the stickers to each other on New Year's [Day]."
LINE is one of the most popular messenger applications in social media obsessed Thailand. According to the Japan-based company, there are at least 24 million registered LINE users in Thailand out of a population of 65 million.
The instant messaging application is known for its "stickers," or sets of cartoons and emojis that can be purchased from an online store.
The Thai government will pay LINE seven million baht to provide the Twelve Values stickers to users free of charge, documents on the ICT website reveal.
The Twelve Values, which Gen. Prayuth bestowed to the nation in a televised broadcast in July, are the following:
1. Loyalty to the Nation, the Religion, and the Monarchy

2. Honesty, sacrifice, endurance, and noble ideology for the greater good

3. Gratitude for parents, guardians, and teachers

4. Diligence in acquiring knowledge, via school studies and other methods

5. Preserving the Thai customs and tradition

6. Morality and good will for others

7. Correct understanding of democracy with the King as Head of State

8. Discipline, respect for law, and obedience to the older citizens

9. Constant consciousness to practice good deeds all the time, as taught by His Majesty the King

10. Practice of Self-Sufficient Economy in accordance with the teaching of His Majesty the King

11. Physical and mental strength. Refusal to surrender to religious sins.

12. Uphold the interest of the nation over oneself.
Authorities have already instructed public schools and state agencies to hang a banner listing Gen. Prayuth's teachings on their premises. State agencies have also produced a poem, song, and 12-part film based on the Twelve Values.
The film, titled "Thai Niyom," stirred controversy shortly after it was released on 6 December because of a scene in which two children are seen painting and praising a picture of Adolf Hitler.
A Cabinet minister from the Office of Prime Minister, which was responsible for the film's production, was forced to apologise to the Israeli ambassador in Bangkok after the diplomat said he was "deeply saddened" to see the "trivialization and misuse" of Nazi symbols in an official Thai government film.
For comments, or corrections to this article please contact: [email protected]