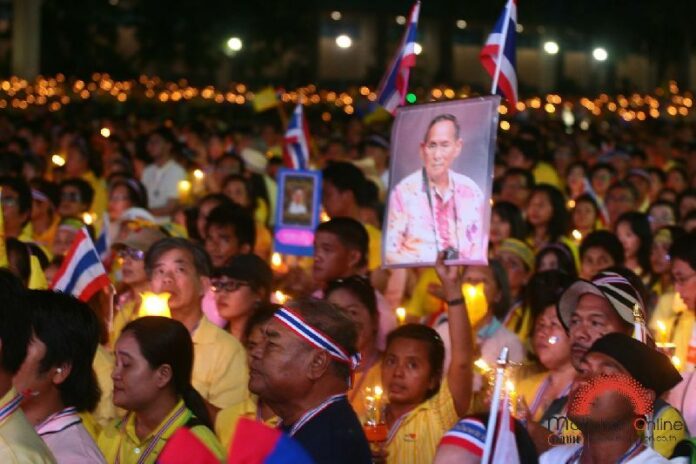 BANGKOK – Thailand's military government has claimed it has the ability to search for anti-monarchy remarks on private chat messages.
Pornchai Rujiprapa, the Minister of Information, Communication, and Technology (ICT), said yesterday that the Ministry is currently monitoring more than 40 million messages sent via the popular chat application LINE every day.
"We can see what type of messages are being forwarded," Pornchai told reporters. "We focus especially on those that are libelous, anti-monarchy, or threatening national security."
LINE is one of the most popular chat applications in social media obsessed Thailand. According to the Japan-based company, there are at least 24 million registered LINE users in Thailand out of a population of 65 million.
Pornchai warned that the ICT and police have the authority to identify, locate, and prosecute senders of anti-monarchy messages on charges of lese majeate, a law that criminalises insulting the monarchy and carries a maximum penalty of 15 years in prison.
"The suspects cannot claim that they were not aware of the consequences of their actions, because the law regards them as conspirators in the crimes," Pornchai said. "Therefore, if you receive [anti-monarchy] messages, you should not forward them."
The Minister also vowed to seek the IP addresses and other information about anti-monarchy websites from foreign companies that host their servers, though he admitted that the process could take a long time.
"It could take a long while because there needs to be a negotiation. Some countries have cultures that are different to Thai," Pornchai explained.
A LINE representative in Thailand told Khaosod that the company cannot simply hand over information of its users to the ICT unless a Japanese court orders the company to do so.
"I don't know what method the ICT is using to monitor the messages, but let me insist that LINE cannot disclose the information of the users, because it is regarded as privacy rights," said the representative, Waradee Wasawanond.
When the Thai government stated in August 2013 that it planned to ask LINE to hand over data about possible lese majeste offenders, the Japanese company similarly refused.
"We prize the privacy of our users," LINE said in a statement at the time.
Criticising the Royal Family is punishable by up to 15 years in prison under Section 112 of Thailand's Criminal Code, the law known as "lese majeste." Although the letter of the law only bans criticism of the King, Queen, Regent, and Heir-Apparent, in practice it is used to punish any discussion of the monarchy.
King Bhumibol, 87, is widely revered as a demi-god by many Thais.
However, public criticism of the monarchy has risen in Thailand in recent years, largely due to the proliferation of Internet access, social media, and chat applications.
Thai junta leader, Gen. Prayuth Chan-ocha, has intensified the crackdown on anti-monarchy networks since he seized power on 22 May 2014. The hardline royalist general has also granted military courts – which do not permit appeals – jurisdiction over lese majeste cases.
Related news: Thai Govt Releases LINE 'Twelve Values' Stickers
For comments, or corrections to this article please contact: [email protected]