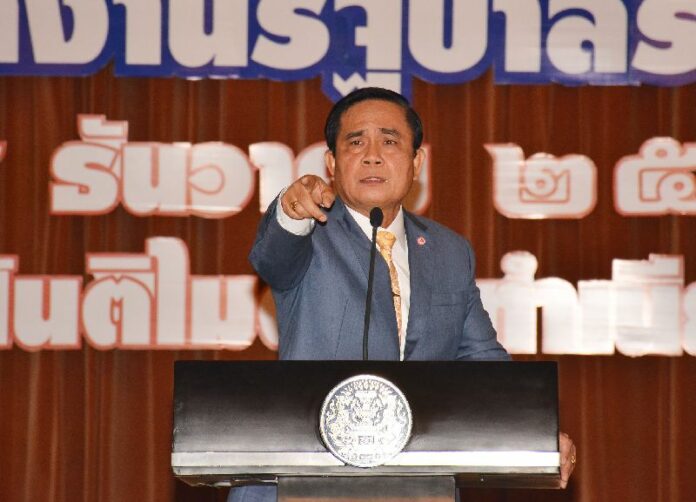 BANGKOK – A member of Thailand's ruling military junta has warned of shutting down media agencies that do not comply with the junta's mission of "national reconciliation."
Gen. Prawit Wongsuwan, a senior member of the National Council for Peace and Order (NCPO), said today that the junta has the power to invoke Section 44 of the 2014 Interim Constitution, which allows the NCPO to intervene in matters related to "national security."
"The government wants to create national reconciliation, but some media agencies write or present news in the way that causes disputes," said Gen. Prawit, who also serves as Minister of Defence. "They also like to ask about things that cause disputes. They really like doing it. They never ask constructive questions. They like to pick up fights. I don't know what's wrong with them."
Gen. Prawit's comment came a day after NCPO chairman and Prime Minister Prayuth Chan-ocha threatened to invoke Section 44 and close down media agencies whose negative reporting ruined his "leadership image."
"I think it's a good idea," Gen. Prawit said of Gen. Prayuth's threat.
On 25 December Gen. Prayuth said he has been enduring a daily barrage of criticism from certain newspapers, which he did not name, and warned that he had the power to shut them down.
"I have endured it for a long time now. They criticise me on every issue, every page of the newspapers. What the hell is wrong with them? Are they crazy?" the NCPO leader fumed. "I get angry [every time] I read these newspapers. They made me lose my manner and have ruined my leader image."
He continued, "But this time, I will shut them down for real. I cannot allow them to continue their disrespect. Otherwise, what's the point of me being [Prime Minister]? What's the point of having martial law?"
Shortly after declaring martial law and launching a coup in May 2014, Gen. Prayuth banned any public protests against his regime and has continually intimidated the media against criticising his mission to bring about national "reforms" and "reconciliation."
Although Thai media have been largely subservient to the NCPO, mostly through self-censorship, several news agencies have continued to criticise Gen. Prayuth and his administration on a daily basis. A notable example is the online-based Isra News, which frequently investigates questionable business dealings of the junta members.
The Thai Journalist Association (TJA) has no immediate comment regarding Gen. Prayuth's threat to close down non-compliant media agencies.
For comments, or corrections to this article please contact: [email protected]
You can also find Khaosod English on Twitter and Facebook
http://twitter.com/KhaosodEnglish
http://www.facebook.com/KhaosodEnglish