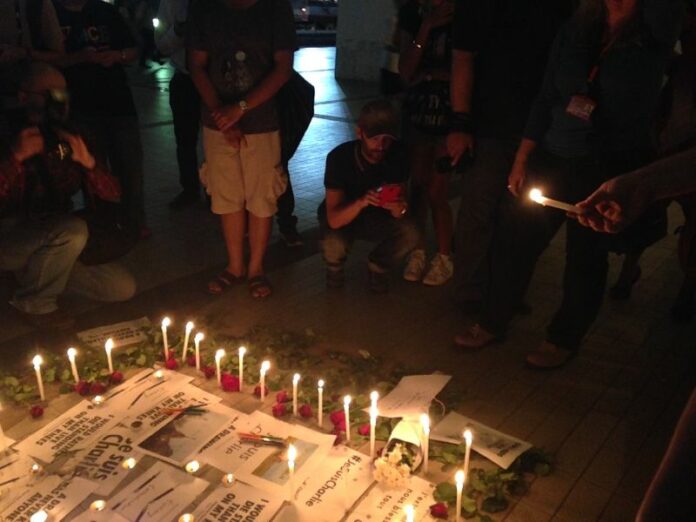 BANGKOK — Several dozen people gathered in central Bangkok Thursday evening to honor those killed in the deadly attack on a satirical magazine in France yesterday.
The group lit candles and lay flowers around signs printed with the words "Je Suis Charlie" and other phrases that have come to symbolize solidarity with the satirical magazine, Charlie Hebdo, that was the target of the shooting.

A vigil for the victims of the Charlie Hebdo massacre in Bangkok, 8 Jan 2015.
Two masked gunmen broke into the magazine's office in Paris yesterday and opened fire on journalists and cartoonists who were gathered for an editorial meeting, killing twelve, including two police officers.
"I could not sleep last night after I heard about the news, and when I woke up the next day I felt like I needed to do something," said Chiranuch Premchaiporn, a journalist at Prachatai who helped organize the vigil in front of the Bangkok Art and Cultural Center.
Witnesses say the gunmen screamed "Allahu Akbar" during the shooting, which the President of France has labeled an "act of terrorism." The magazine regularly poked fun at religions, including Islam, and was firebombed in 2011 after it published a spoof issue "guest edited" by the Prophet Muhammad.
Shortly after the massacre, crowds began gathering in cities around the world to condemn the attack, with many holding up pens and pencils to show their support for free speech.
The attack on freedom of expression has particular resonance in Thailand, where people were forced to test the military junta's ban on political gatherings to attend tonight's vigil.
"We had to do something simple because of martial law," said Chiranuch. "So we made it clear that this is not a political gathering, just a spiritual gathering to honor those whose lives were lost."
Thailand's military junta banned all political activities shortly after seizing power in a coup on 22 May 2014.
Prach Panchakunathorn, a former journalist who attended tonight's vigil, said the attack in France made him think of another restriction on free speech in Thailand: the draconian lese majeste law that punishes any criticism of the monarchy with up to 15 years in prison.
"What happened in France has happened in Thailand to a lesser degree," Prach said. "People who mock or criticize members of the royal family are often bullied. In some cases people have even come to where they live and shot bullets at their homes."
Those accused of lese majeste often face severe social stigma in Thailand, where King Bhumibol is widely revered. Even those acquitted of the charge often struggle to find employment.
For comments, or corrections to this article please contact: [email protected]
You can also find Khaosod English on Twitter and Facebook
http://twitter.com/KhaosodEnglish
http://www.facebook.com/KhaosodEnglish