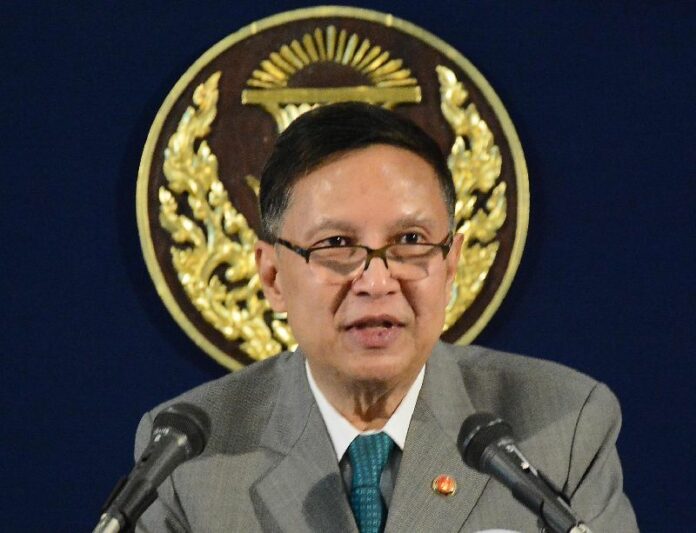 BANGKOK – Thailand's next constitution will be the first of Thailand's 19 charters to include an explicit ban on "hate speech," says a spokesperson for the junta-appointed Constitutional Drafting Committee (CDC).
Kamnoon Sitthisaman said the ban will be outlined in Section 14 of the new constitution, which is expected to be completed later this year.
According to Kamnoon, the first clause of Section 14 will grant citizens "liberty in the expression and dissemination of their opinion by speaking, writing, publishing, advertising, or communicating by other means."
However, the section's second clause will read as follows:
"Any restriction of liberty as prescribed in Clause 1 cannot be done, unless it is done by the power of legal means to maintain the stability of the state; to protect the rights, liberty, dignity, reputation, private information, rights in family, or individual privacy; to maintain peace and order or the good morality of the people; to prevent or cease mental or health degradation of the people; to prevent any hatred between the people in the nation or religions; or to prevent any act of violence against one another."
"Section 14 is a solution to the crisis that has been taking place in the present era, which has seen many remarks that incite hatred, or something that is called hate speech in English," Kamnoon explained.
He said the punishment for "hate speech" will be outlined in separate legislation and added to Thailand's Criminal Codes.
Thailand already has a ban on any comments considered critical of the Thai monarchy, with a maximum penalty of 15 years in prison. The Computer Crime Act of 2007 also outlaws disseminating information through a computer system that may damage national security, cause a "public panic," or violate any section of the Criminal Codes.
Kamnoon also told reporters that Section 7 of the new charter will explicitly prohibit any discrimination based on "gender," another unprecedented constitutional measure in Thailand.
"The drafting of this Constitution will add a new word, "gender," to cover any gender that is different to the natural sex," said Kamnoon, explaining that the clause is meant to protect the rights of transgender individuals in Thailand.