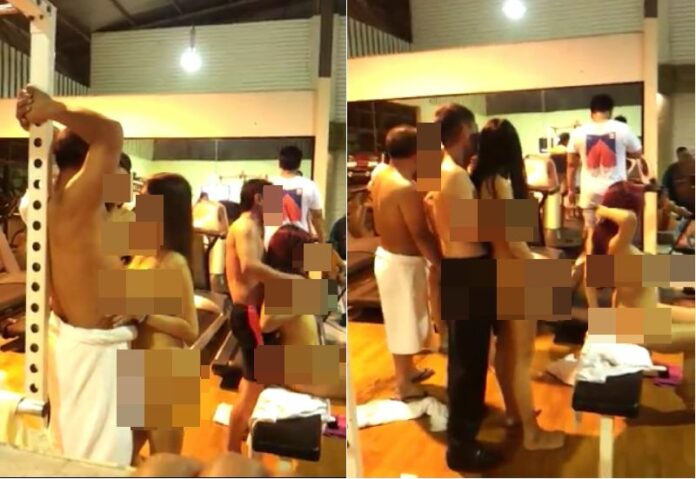 BANGKOK — Thailand's central judiciary authority has launched an investigation into reports that a judge attended a raunchy party at a gym in Bangkok that has made headlines in recent days.
Bowornsak Thawipat, spokesperson of the Office of Courts of Justice, said one of its judges is believed to be seen in a video of the party, which went viral on the internet earlier this week. The video shows a group of naked women socializing with men at a gym in Bangkok.
The women are wearing bikinis in the beginning of the video, but later remove them.

A screenshot of the censored video.
"We are forming a committee to investigate the incident," Bowornsak said, without identifying the judge by the name.
If the committee determines that a judge was indeed at the party, he will face disciplinary action in accordance with court regulations, the spokesperson told reporters yesterday.
Police say the video was shot at the privately-owned EBI Sauna & Fitness in Bangkok's Wang Thong Land district. Although police have confirmed that the party was a private event, they are investigating whether there are grounds to charge the women with indecent exposure.
Three individuals have been summoned to give testimony, including the owner of the gym, police say.
"We have not pressed charges against anyone," said Pol.Lt.Gen. Prawut Thawornsiri, spokesperson of the Royal Thai Police.
A famous Thai comedian, Den Dokpradoo, is also seen in the video. Attempts to reach Den have been unsuccessful, but his wife told Khaosod that her husband did in fact MC the party. However, Den was not told that the event would feature naked women, his wife said.
"When he was doing his job as the MC he noticed women wearing only underwear and bras, so he got confused, but he had to continue his job because he is a professional," his wife said. "He said there were no naked women when he was there, so it must have happened after he already left the party."
Meanwhile, former Democrat Party MP Thani Thaugsuban denied that he was at the party, after a flood of internet users claimed to spot him in the video.
"I have never attended this kind of event," Thani told Thai Rath and Daily News newspapers. "As a public figure, I am ready to prove my words."
Thani is a brother of Suthep Thaugsuban, the former deputy chairman of the Democrat Party who led the anti-government protest movement from December 2013 to May 2014.
The protests came to an end when the military seized power from the elected government, after which Suthep entered the monkhood. Thani said he believes the video is a part of a campaign to smear the Democrat Party, noting that it was released on the internet only a few weeks after another video that claims to show a spokeswoman of the party engaging in a sexual act.
"It is easy to spread destructive news on online media," Thani was quoted as saying.
For comments, or corrections to this article please contact: [email protected]