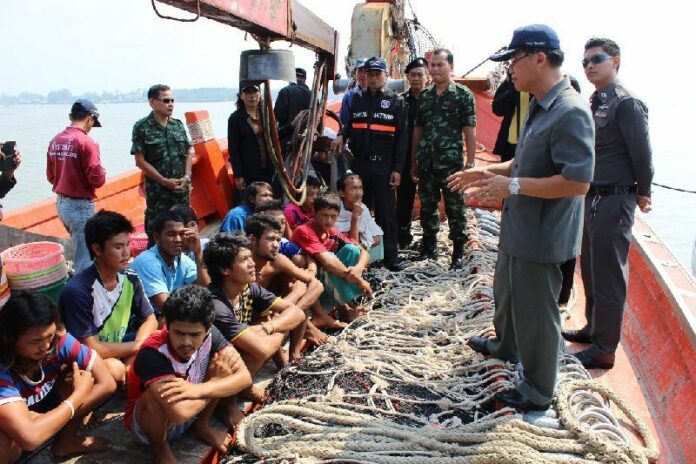 BANGKOK — Wanchai Benjapat says there is only one way to describe the conditions of the Thai fishing boat he worked on for 10 months: unendurable.
And yet, he was given no other choice. "You can endure it or not," he explained, "but you still have to do it."
Wanchai is one of thousands of Thai, Burmese, and Cambodian men who have languished under slavish working hours, inhumane living conditions, beatings, and other forms of abuse on Thai fishing boats.
Many of the crewmembers are deceived into working on the fleets; they are lured by fake job offers from agents who ultimately sell them like slaves to the ship's captains.
"Some of these people have never been on a boat before," said Patima Tungpuchayakul from the Seafarers Labour Rights Promotion Network Foundation. "Some are drugged to get on board. Some are never paid."
According to the International Labour Organization, nearly 17 per cent of workers on Thai fishing boats have experienced forced labor.
Hundreds of workers abandon the ships to escape the torturous conditions, risking their lives and often ending up stranded — with no money or belongings — on islands off of Indonesia where they live for years.
Patima says that many of the fishermen rescued by her organization are physically crippled from the abuse they suffered on the ships, and more than half of them exhibit serious emotional and psychological problems.
Since seizing power in coup d'etat last May, Thailand's military junta has vowed to eradicate trafficking and reverse Thailand's standing as one of the worst centers for human trafficking in the world.
This reputation was cemented last year when Thailand was downgraded to the lowest ranking in the United States' annual Trafficking in Persons (TIP) Report for failing to meet the minimum standards needed to eliminate trafficking. The reportcited instances of Thai police and military officers who allegedly profited from the smuggling of undocumented migrants onto Thai fishing vessels.
As the military government prepares to submit a follow-up report to the US by March, officials have begun publicizing new anti-trafficking measures, including tougher legislation to protect workers in the fishing industry, plans to install fishing boats with vessel monitoring systems (VMS), and the formation of new committees tasked with studying and eradicating trafficking in all of its forms.
According to officials, Thailand has made significant progress in tackling trafficking over the past six months, and has outperformed other countries placed in the lowest 'Tier 3' category of the US's report.
However, human rights advocates remain skeptical of the government's new measures.
"It's still a lot of talk and not much action," said Phil Robertson, the deputy director of Human Rights Watch's Asia division, at a panel discussion on human trafficking at Bangkok's foreign correspondent's club. "Correcting a few documents, changing a ministerial regulation — that's not a substitute for real action."
Robertson stressed that a number of obstacles must be surmounted for the new measures, such as a vessel tracking system, to be effective. He cited the high proportion of boats that never register with port authorities in the first place, and the lack of fuel made available to marine police, who say they don't have enough to properly patrol the seas.
It also remains unclear how some new regulations, such as the requirement that workers get 10 hours of rest per day, will be enforced when the boats are at sea.
Chaleerat Sangsuwan, who works for the Anti-Trafficking Alliance, agreed that the key obstacles to curbing trafficking are corruption and weak law enforcement, not a lack of legislation. There are already a number of legal tools available to address trafficking, she said, yet all too often they fail to translate into concrete action.
"In reality these tools are often just words," said Chaleerat. "They are things spoken in meetings and they don't have an impact on the ground."
Trafficking in Thailand's fishing sector is driven in large part by a labor shortage, with the vast majority of Thais unwilling to subject themselves to the industry's horrific working conditions. While the ships are predominately manned by migrant workers from neighboring countries and vulnerable groups like the stateless Rohingya, the number of Thais being deceived into slaving on the boats has reportedly risen in recent years. Earlier this week, police arrested two men suspected of duping Thais from rural provinces into working on the boats.
Up until two days ago when the proposal was finally scrapped, the Thai government was planning to send Thai prisoners to work on fishing boats in an effort to address the industry's labor shortage. The plan, which was announced in December, was heavily criticized by human rights groups.
"It was an astonishingly bad idea," Human Rights Watch's Robertson said. "It shows a lack of understanding among the government about what actually needs to be done to address the problem of human trafficking on fishing boats."
Wanchai, who spent ten months on a fishing boat in Indonesian waters, said its time for Thailand to value human lives above the number of fish that can be caught in a day.
"A developed country should value its human resources," said Wanchai. "What we see today is that human lives are given less value than physical objects."