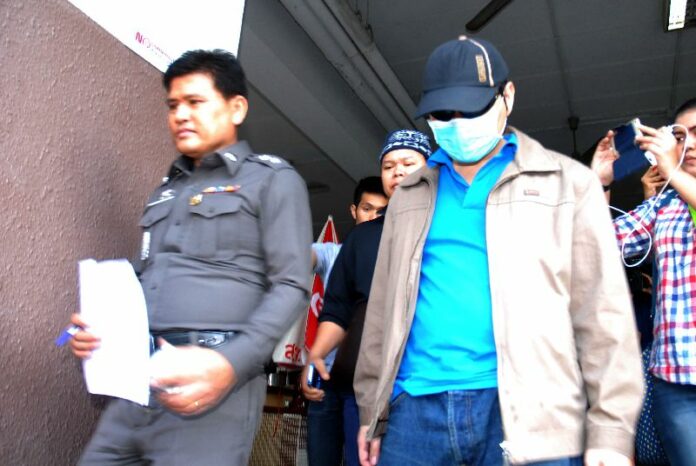 BANGKOK — The motorist who allegedly shot and killed a stray dog in Bangkok last week surrendered himself to police today.
Wicha Boonluelak, 32, identified himself as the man who police have accused of shooting a nine-year-old female dog named "Sue Bue" on Lat Prao Road on 13 January. The incident was captured on CCTV footage.
Witnesses told police that Sue Bue was barking at the car before the driver got out of the vehicle and fired at her. The dog later died at an animal hospital. Panita Sunthornrat, a 45-year-old resident in the area, then filed a complaint with police, urging them to prosecute the driver with the newly-passed animal protection law.
Police have charged Wicha with animal cruelty, possessing a firearm without a permit, using firearm in residential area without due cause, and carrying a firearm into residential area without due cause.
Wicha and his lawyer met with police at Chokechai Police Station at around 8 am today. He denied all charges and told police that he would only give testimony in the court.
Panita, the woman who filed the charges, told reporters today that she would like to thank police officers for taking the case seriously.
"I wish I could have asked the suspect why was he so cruel to shoot a dog to death just because she was barking at him?" Panita said. "If that dog harms or damages anyone's property, I would be willing to take all responsibility, because I treat her like my own dog."
She added that she hoped the animal protection law, the first legislation in Thailand to explicitly criminalize animal cruelty, will set a new social standard by forcing anyone attacked by a dog to take legal action against the dog's owner instead of exacting vengeance on the dog.
"In case of stray animals, the person who has been feeding those dogs can be held responsible," Panita suggested.
The Animal Welfare Protection Act was passed by the junta's interim parliament in November 2014. Under the law, those found guilty of animal cruelty face up to two years in prison and a 40,000 baht fine.
CORRECTION: The original version of this article falsely stated that

Wicha Boonluelak identified himself to police as the man behind the dog shooting, whereas he only identified himself as the man police were searching for in connection with the crime.