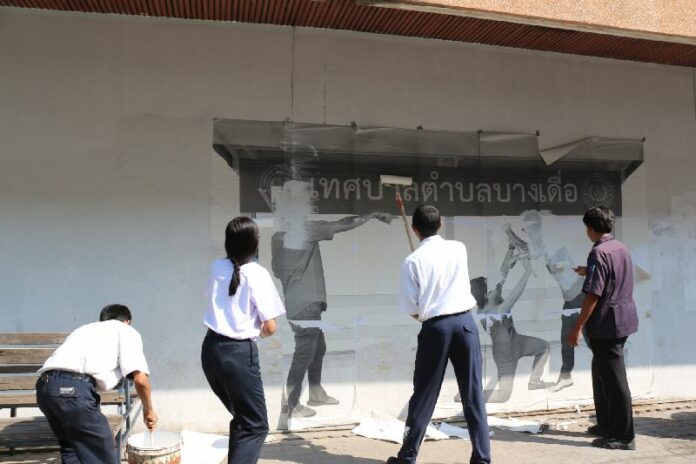 PATHUM THANI — Students from three technical colleges in Pathum Thani were ordered to paint over the gang signs they allegedly sprayed on walls in the town center, in an effort to reduce rivalries among the students.
Dozens of students from Pathum Thani Technical College, Pathum Thani Technological College, and Laem Thong Technology College were escorted by their teachers to remove graffiti from the walls of buildings in Hor Saeng Chai market and nearby areas today.
Rival gangs of technical students in Thailand often graffiti walls with their school emblems and other taunting messages to proclaim their "control" over certain "territories."
The rivalries between students occasionally turn violent and even deadly. On 16 January, two techincal students were shot dead on their way to school in Pathum Thani province, in what police suspect was a gang-related assassination. A week prior to the incident, passengers riding a public bus in province were forced to evacuate when nearly a dozen technical students reportedly attacked the vehicle because it was carrying students from a rival school.
Pitchet Sukhon, deputy director of Pathum Thani Technical College, said he hoped students from the three colleges will talk more and understand each other better because of today's cleanup activities.
"We hope it will reduce the problem of student fights, and we think the students should keep doing good things for the society," Pitchet said.
He added that the school administrators also plan to invite rival students to have meals together and "adjust their attitudes" towards one another.