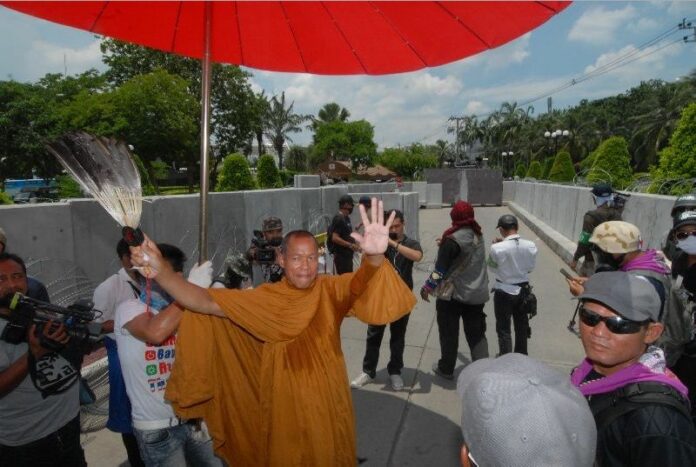 BANGKOK — Khaosod newspaper has been acquitted of libel charges filed by Buddha Issara, an ultra-royalist Buddhist monk who led protests against the former government last year.
Buddha Issara, a core leader of the People's Committee for Absolute Democracy With the King As Head of State (PCAD), sued Matichon and Khaosod newspapers, which own Khaosod English, in April 2014.
The monk accused the newspapers of libel for publishing comments from the head of the Office of National Buddhism (ONAB) that criticized Buddha Issara for ordaining novices at a protest site on Chaeng Wattana Road in northern Bangkok.
According to the ONAB director-general, Nopparat Benjawatananun, Buddha Issara was not qualified to preside over the ordinations.
Today the Criminal Court threw out the lawsuit on the grounds that Buddha Issara's libel charge "did not have sufficient basis."

Buddhist monk and anti-government activist Buddha Issara leads protesters to the CAPO headquarters, May 2014.
From January – May of last year Buddha Issara led the PCAD's semi-autonomous hardline faction in northern Bangkok. The guards protecting his unit made headlines with their violent run-ins with innocent bystanders, police officers, and rival pro-government protesters.
Throughout the protests, Buddha Issara repeatedly called for former Prime Minister Yingluck Shinawatra to be replaced by an unelected leader. He argued that His Majesty the King had the royal authority to unilaterally appoint a new Prime Minister.
The PCAD protests came to an end on 22 May 2014 when Gen. Prayuth Chan-ocha staged a military coup against the elected government. PCAD leaders, including Buddha Issara, have been kept a relatively low profile ever since.
In a separate hearing today, the court also dismissed a libel charge filed against Khaosod and Matichon by the former chief of Thai police force, Pol.Gen. Seripisut Temiyavet, who sued the newspapers in 2008 for publishing a series of articles that he said damaged his reputation.
According to the court's verdict, Khaosod and Matichon were merely "publishing criticism as media agencies," which cannot be classified as defamation.
Defamation is a criminal offense in Thailand, defined under Thai law as any statement made by one party that is likely to impair the reputation of another party or expose the latter to hatred. The offense is punishable by up to two years in prison and a fine of 200,000 baht.
The law has been frequently criticised by rights activists, who say it is abused by authorities and large corporations to silence critics and create a climate of fear.