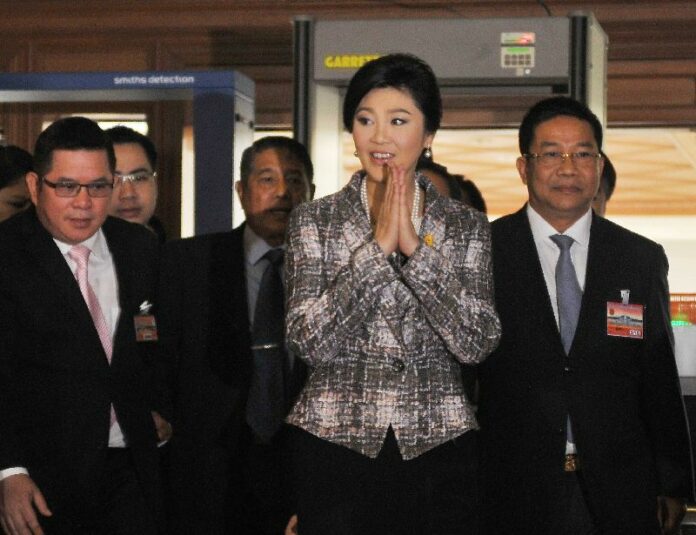 BANGKOK — Former Prime Minister Yingluck Shinawatra has been impeached by the National Legislative Assembly (NLA), a body whose members were handpicked by the Thai military junta after the 22 May 2014 coup that ousted Yingluck's elected government.
One hundred and ninety of the 219 NLA members present for the secret ballot voting this morning voted in favor of impeaching Yingluck for allegedly failing to stop corruption in her administration's rice-pledging scheme. Eighteen NLA members voted against the impeachment, 8 abstained, and 3 ballots were spoilt.
As a result of the retrospective impeachment, Yingluck now faces a five year ban from politics.
Yingluck was accused of dereliction of duty in her government's rice-pledging scheme, which Thailand's national anti-graft agency said cost the country 500 billion baht in damages due to mismanagement and corruption.
Under the rice-pledging program, a key police of Yingluck's administration, the Thai government bought rice from farmers at above-market prices, but then struggled to sell the paddies on the international market, accumulating stockpiles and resulting in huge financial loses.
Today's impeachment is the latest in a series of legal punishments handed down to Yingluck and her government. In May 2014, she was ousted from her office by the Constitutional Court on an abuse of power charge for transferring the head of the national security agency in 2011.
The remnants of her government were toppled a few weeks later, on 22 May 2014, in a military coup led by Gen. Prayuth Chan-ocha, who is now Prime Minister and handpicked the current lawmaker body that impeached Yingluck today.
Earlier today, the Attorney-General also announced that it will prosecute Yingluck in the Supreme Court's Division for Holders of Political Office for alleged negligence in the rice-pledging scheme.
If found guilty of the criminal charges, Yingluck could face up to 10 years in prison.
Around 100 of the 220 members of the NLA are active or former military officers, widely considered to be allied to the ruling junta and hostile to Yingluck and her political camp.
The impeachment is considered the latest development in a decade-long struggle for power between political parties led by Yingluck and her brother, former PM Thaksin Shinawatra, and Thailand's royalist-military establishment. The move is expected to increase tension between the two camps, although political activities and gatherings of any kind remain banned under the junta's orders.
Gen. Prayuth and other junta leaders have insisted that they did not order the NLA to vote in any particular direction regarding Yingluck's impeachment.
However, Gen. Prayuth said on 19 Janaury that he would not feel pity for Yingluck if she were to be impeached.
"If someone does something wrong, will you feel pity for that person? Even if you feel pity, you can't do anything anyway, because it's against the law," Gen. Prayuth told reporters. "Will you not respect the laws at all? Will you not respect the court or rules of the country at all?"
Yingluck is the first Prime Minister to be impeached by parliament in the history of Thailand.
In the same voting session today, the NLA decided not to impeach two other former politicians, Somsak Kiatsuranont and Nikom Wairatpanij, who were charged with violating the consitution for trying to amend Thailand's 2007 charter to make the Senate a fully elected body.