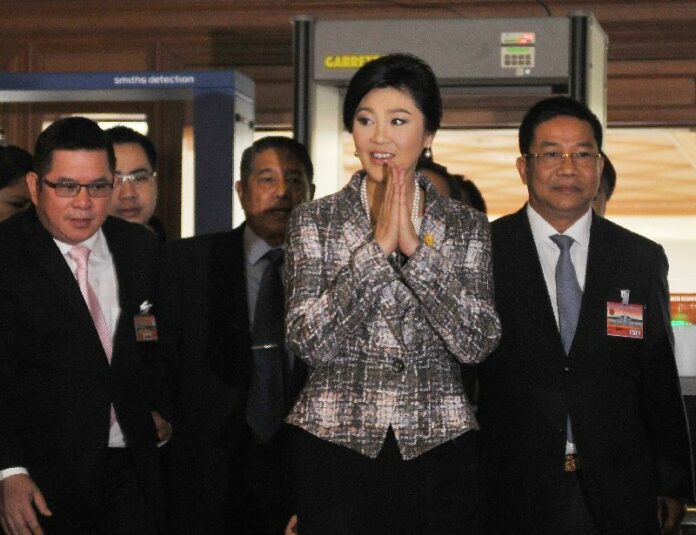 BANGKOK — Former Prime Minister Yingluck Shinawatra has insisted on her innocence following the junta-appointed parliament's decision to impeach her this morning, posting a statement on Facebook after the military forced her staff to cancel a formal press conference.
Yingluck was impeached in an overwhelming vote, 190 against 18, by the National Legislative Assembly (NLA) today for her alleged failure to stop corruption in the rice-pledging scheme, a key policy in her administration that allegedly cost the state 500 billion baht in damages.
As a result of her impeachment, Yingluck is banned from politics for five years, effectively barring her from the next national election that the junta says will be held in 2016 at the earliest.
Yingluck was scheduled to give a press conference after the vote at the SC Park Hotel, which is owned by her family, but military officers arrived at the premises and "asked" her staff to cancel the event.

Soldiers arrive at hotel in Bangkok where Yingluck was scheduled to hold a press conference after being impeached by NLA, 23 Jan 2015.
Yingluck's official Facebook account then posted a statement attributed to her, saying that the impeachment was "expected," but that she still insists on her innocence.
"The procedure has violated and abridged my basic rights that I, as a Thai citizen, deserve to have," the statement says. "Let me insist that the rice-mortage program is a good program. It did not cause any damage. As for the number of damages that they try to press on me, it is prejudice against me, and an attempt to use farmers as instruments of political destruction."
She also expressed her dismay at the "coincidence" that the Office of Attorney-General decided to press criminal charges against her in court only an hour before she was impeached by the NLA.
The former leader concluded her statement with a strongly-worded pledge to continue "fighting."
"However, I insist that I will fight to the end to prove my innocence, regardless of the outcome. What is also important is that I will stand by the people of Thailand. We have to bring progress to the country, restore democracy, and build fairness in society in a meaningful way."

The NLA voted to impeach Yingluck 190 to 18 on 23 Jan 2015.
The statement was a rare display of defiance from Yingluck; the former leader has not commented on the coup or Thai politics in general since the military seized power on 22 May 2014. Other Pheu Thai Party and Redshirt figures have also largely asked their supporters to "cooperate" with the military junta.
Junta leaders have repeatedly asked Yingluck's supporters not to protest the impeachment verdict, which analysts say may increase tension between Thailand's bitterly divided politicalcamps. However, the streets of Bangkok remained calm on Friday, with the public adhering to the junta's ban on all political activities and protests.