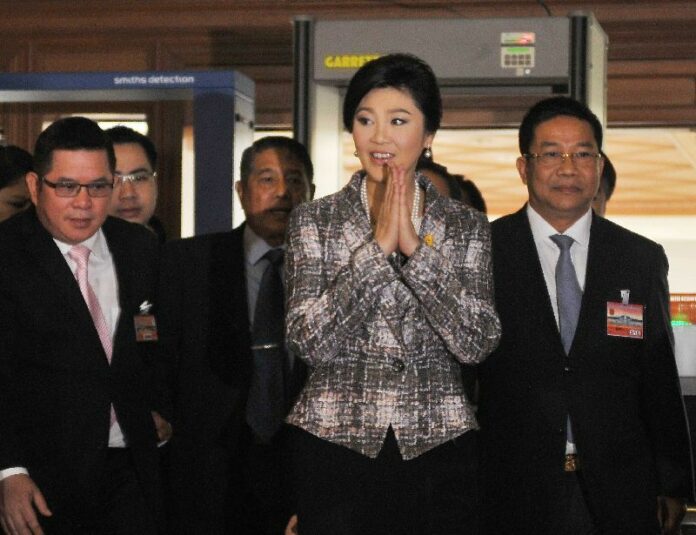 A Khaosod English translation of the statement posted by former Prime Minister Yingluck Shinawatra on her official Facebook account this afternoon.
Statement from Ms. Yingluck Shinawatra
The 28th Prime Minister of Thailand
23 January 2015
To all the dear people,
As expected, the National Legislative Assembly has reached its decision to impeach me as a Prime Minister and ban me from politics for five years, while the Attorney-General has taken up a case against me in the Supreme Court's Division for Holders of Political Office. I have these statements to make:
I insist on and express confidence in my innocence, and I would like to thank the principled minority votes that upheld fairness. The procedures have violated and abridged my basic rights that I, as a Thai citizen, deserve to have.
Let me insist that the rice-mortage program is a good program. It did not cause damages. As for the number of damages that they have tried to press on me, it is prejudice against me, and an attempt to use farmers as instruments of political destruction.
As I said about Thailand's democracy on 29 April 2013 at Ulan Bator, Mongolia, "I would like to see reconciliation and democracy gain strength. This can only be achieved through strengthening of the rule of law and due process. Only then will every person from all walks of life feel confident that they will be treated fairly."
I still insist on those words I said, even though today Thai democracy is dead, along with the rule of law. There is still a movement constantly bent on destruction, as I am suffering right now.
It is saddening and unbelievable that there are so many coincidences, as I said in my final hearing yesterday, and they are coincidences that are not coincidences. Just only one hour before the National Legislative Assembly began its impeachment vote, the Attorney-General announced that it would prosecute me on charges of dereliction of duty leading to corruption in the rice-mortage program, even though the head of the Office of Attorney-General stressed that there is still need to consider incomplete points in the case.
The attorney institution, which has long been a credible institution in the justice system, is now questioned because of this incident.
My performance of duty as a Prime Minister throughout two years, nine months, and two days was dedicated to solving problems in every group of people without discrimination. I am proud that, once in my life, I helped farmers and poor people escape from the depth of their poverty, and improved their lives.
Today, I have no [political] office left. The only thing left for me are charges that they have forcefully pressed against me, which I will fight in court.
Reconciliation cannot take place by hunting down certain individuals. It has to come with impartiality that provides justice to all sides. When there is fairness, there will be justice. Acceptance, peace, and unity will then follow suit in Thai society.
We are all Thais. Instead of turning to each other and joining hands to strengthen our country, we create hatred against each other, hunting down [opponents] and not giving them quarters. In the end, the one who is damaged is our own country.
I am saddened, not because I have been bullied and am suffering unfair fate, but because I feel sorry for farmers and all the Thai people who lost their opportunity and were forced back to live in the endless cycle of poverty, debt, and exploitation. They also lost the basic [rights] of democracy, and the laws are being distorted.
Finally, I hope that the individuals who administer justice of the country will not allow any group who disrespects democratic rules and disregards rules of law to be influential ever again. As an academic has said: "if there is no Yingluck, Thai people can still live on. But, more importantly, if there is no justice left in the governance of Thailand, no one can live on."