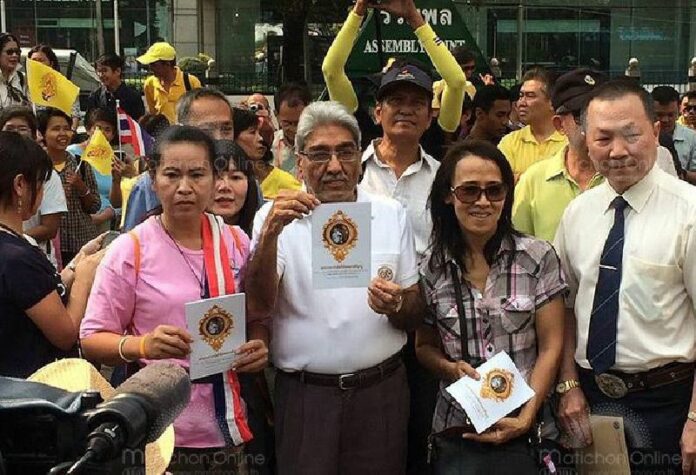 BANGKOK — Dozens of Thai royalists defied the junta's ban on protests to stage a rally in front of the New Zealand Embassy in Bangkok yesterday, demanding NZ authorities extradite an alleged anti-monarchist back to Thailand.
The protesters, numbering around 60, were led by Maj.Gen. Rienthong Naenna, a retired military commander, director of a hospital, and founder of a Facebook page called "Garbage Collection Organization," which advocates tougher measures for those who criticize the Thai monarchy.
Maj.Gen. Rienthong was accompanied by Satit Segal, an India-born businessman and core leader of the ultra-conservative protest group that campaigned against the government toppled in the 22 May 2014 coup.
Satit told reporters that the protesters were angered by New Zealand authorities' decision to allow a 23-year-old charged with lese majeste (insult of the monarchy) to stay in New Zealand and use his residency for "political activism."
The suspect, student activist Ekapop Luara, is wanted for allegedly insulting the Thai monarchy, a crime punishable by up to 15 years in prison under Section 112 of Thailand's Criminal Codes. He posted on his Facebook in December that he is now living in New Zealand, claiming to have been granted asylum by NZ authorities.
After announcing his alleged asylum status in New Zealand, Ekapop, aka Tang Acheewa, began criticizing Thailand's military junta and mocking the effort to extradite him and other lese majeste suspects. His Facebook account has since been deactivated.
He is believed to have fled Thailand shortly after the military staged the coup on 22 May 2014.
"We want them to send Ekapop Luara back to Thailand to face legal prosecution," Satit said. "What the New Zealand government is doing is not right. Ekapop is charged in a criminal case, not a political one. If the Embassy refuses to do anything, I and my group will escalate our protests."
Shannon Austin, the New Zealand Charge d'Affaires, accepted the group's letter of protest on behalf of the Embassy. The protesters dispersed soon afterward.
Over 70 security officers, including police officers and soldiers, quietly observed the protests until the demonstrators – who were violating the martial law ban on public protests – dispersed on their own.
On 6 January, the Thai Ministry of Foreign Affairs summoned a diplomat from the New Zealand Embassy in Bangkok to express its concern over reports that Ekapop is residing in New Zealand.
"Mr. Ekapop is using his status granted by the New Zealand government to engage in political matters that affect the national security of Thailand, at a time when Thailand is moving forward and seeking a national reconciliation," said Sek Wannamethee, spokesperson of the Thai Ministry of Foreign Affairs (MFA).
The MFA also asked the New Zealand authorities not to allow anyone who violates Thai laws to use its country as a base for political activities, Sek told reporters.
The New Zealand Embassy in Bangkok has not responded to Khaosod English's requests for comment.
Since staging a coup on 22 May 2014, junta leader and Prime Minister Prayuth Chan-ocha has stepped up prosecution of lese majeste suspects. Gen. Prayuth, considered a hardline royalist, has also granted military courts – which do not permit appeals – jurisdiction over lese majeste cases.
Among those currently facing prosecution are two theatre activists accused by the military of insulting the Royal Family by staging a play about a fictional monarch in October 2013. The two activists have been held in prison since they were arrested last August, with the court repeatedly denying their requests for release on bail.
The growing persecution has forced a number of activists and academics to flee Thailand and seek asylum in foreign countries. Apart from Ekapop, other notable exiles include transgender activist Saran Chuichai and historian Somsak Jeamteerasakul, who say they are living in France, as well as Pavin Chachavalpongpun, a political science scholar who lives in Japan.
For comments, or corrections to this article please contact: [email protected]
You can also find Khaosod English on Twitter and Facebook
http://twitter.com/KhaosodEnglish
http://www.facebook.com/KhaosodEnglish