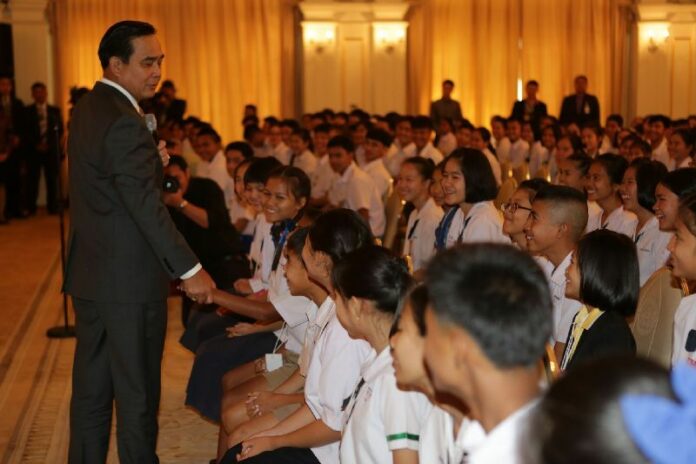 BANGKOK — Thai junta leader and Prime Minister Prayuth Chan-ocha has instructed the media to stop asking children about whether they are familiar with his moral teachings, known as the "Twelve Values."
Gen. Prayuth told the nation in his weekly televised speech last night that reporters from some media agencies have been excessively testing children on whether they've memorized the "Twelve Values" that Gen. Prayuth says he wants all Thais to practice.
"They ask each kid, can you remember them? Can you recite them? It's a turnoff for the kids," Gen. Prayuth said. "That's not right. I have never forced anyone to do anything."
He did not specify any TV channel by name, but simply went on to urge "all TV channels and all media agencies" against spoiling the Twelve Values by repetitively asking children to recite them.
"It's useless. It doesn't cause any benefit. It's a waste of your energy," Gen. Prayuth said. "This is something that I want all show producers, talk show hosts, especially the state-owned channels or channels that use state budgets, to think about. I don't want to force or direct anything for you."
His statement last night appeared to be a change of tack, as the general has repeatedly urged state agencies, including the media and education establishments, to promote the "Twelve Values" publicly.
However, he did add last night that he wanted to see more dramas and films incorporate moral lessons into their storylines.
"Education, TV, films, dramas, they should put in some good things, too," Gen. Prayuth suggested.
The Twelve Values, which Gen. Prayuth bestowed to the nation in a televised broadcast in July, are the following:
1. Loyalty to the Nation, the Religion, and the Monarchy
2. Honesty, sacrifice, endurance, and noble ideology for the greater good
3. Gratitude for parents, guardians, and teachers
4. Diligence in acquiring knowledge, via school studies and other methods
5. Preserving the Thai customs and tradition
6. Morality and good will for others
7. Correct understanding of democracy with the King as Head of State
8. Discipline, respect for law, and obedience to the older citizens
9. Constant consciousness to practice good deeds all the time, as taught by His Majesty the King
10. Practice of Self-Sufficient Economy in accordance with the teaching of His Majesty the King
11. Physical and mental strength. Refusal to surrender to religious sins.
12. Uphold the interest of the nation over oneself.
Authorities have already instructed public schools and state agencies to hang a banner listing Gen. Prayuth's teachings on their premises. State agencies have also produced a poem, song, and 12-part film based on the teachings.
Last month, the Ministry of Information, Communication, and Telecommunication released a set of "stickers" depicting each of the Twelve Values for users of the chat application LINE.
For comments, or corrections to this article please contact: [email protected]
You can also find Khaosod English on Twitter and Facebook
http://twitter.com/KhaosodEnglish
http://www.facebook.com/KhaosodEnglish