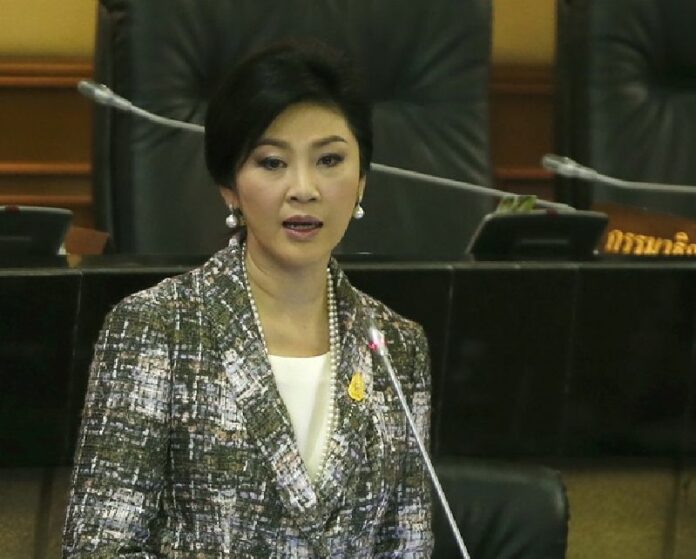 BANGKOK — A top legal adviser to the Pheu Thai Party says he hopes the military junta will grant amnesty to former Prime Minister Yingluck Shinawatra and dissolve the impeachment verdict handed down to her yesterday.
Singthong Buachum, head of Pheu Thai Party's legal team and a former MP, told reporters that he believes amnesty for Yingluck is a prerequisite for achieving national "reconciliation" and "reform" – two tasks the military junta insists it is attempting to achieve.
"If there is no amnesty, the reconciliation will fail," said Singthong. "Things will be like in the past. Reforms won't succeed."
Former PM Yingluck was retrospectively impeached yesterday by the National Legislative Assembly (NLA), a body whose members were handpicked by the military junta. One hundred and ninety members of the NLA voted in favor of impeaching Yingluck for allegedly failing to stop corruption in her administration's rice-pledging scheme. Eighteen NLA members voted against the impeachment, 8 abstained, and 3 ballots were spoilt.
As a result of the impeachment, Yingluck now faces a five year ban from politics, effectively disqualifying her from running in the next general election, which the junta says will take place as early as 2016.
Yingluck was accused of dereliction of duty in carrying out her government's rice-pledging scheme, which Thailand's national anti-graft agency said cost the country 500 billion baht in damages due to mismanagement and corruption.
Under the scheme, a key police of Yingluck's administration, the Thai government bought rice from farmers at above-market prices, but then struggled to sell the paddies on the international market, accumulating stockpiles and resulting in huge financial loses.
Yesterday, the Office of Attorney-General also announced plans to prosecute Yingluck in the Supreme Court's Division for Holders of Political Office. If found guilty of the criminal charges, Yingluck could face up to 10 years in prison.
Singthong, Yingluck's legal adviser, said his legal team is more "concerned" by the pending prosecution before the Supreme Court, as "criminal charges carry a far more severe punishment."
Singthong also insisted that Pheu Thai Party would not mobilize its supporters to protest the impeachment or any other verdict against Yingluck.
"We want the NCPO and the government to help Thailand move forward," Singthong said, referring to the junta's formal name, the National Council for Peace and Order.
Yingluck denounced the impeachment in a Facebook post yesterday.
"Today Thai democracy is dead, along with the rule of law," the statement read. "Reconciliation cannot take place by hunting down certain individuals. It has to come with impartiality that provides justice to all sides."
Hours after the impeachment, Panthongtae Shinawatra, son of former Prime Minister Thaksin Shinawatra and a nephew Yingluck's, published a post on his official Instagram site with the text, "Are you ready, Thai people?" – an excerpt from a Redshirt mobilizing song.
However, the streets of Bangkok remained calm on Friday, with the public adhering to the junta's ban on all political activities and protests.
Military junta spokesperson Col. Winthai Suvaree warned all sides against participating in any political activities yesterday. He also denied the reports that the military instructed Yingluck to cancel her press conference yesterday and forced her to turn to Facebook instead.
"We didn't force anyone. We merely asked for her cooperation," Col. Winthai said, "Because we have determined that it is not appropriate for anyone to participate in any political activities at the moment. It may lead to chaos in the country."
Read more:
Full English Text of Yingluck's Post-Impeachment Statement
Junta's Legislature Votes Overwhelmingly to Impeach Former PM Yingluck
Thai Ex-Premier Faces Criminal Charges Ahead of Impeachment Decision
For comments, or corrections to this article please contact: [email protected]
You can also find Khaosod English on Twitter and Facebook
http://twitter.com/KhaosodEnglish
http://www.facebook.com/KhaosodEnglish