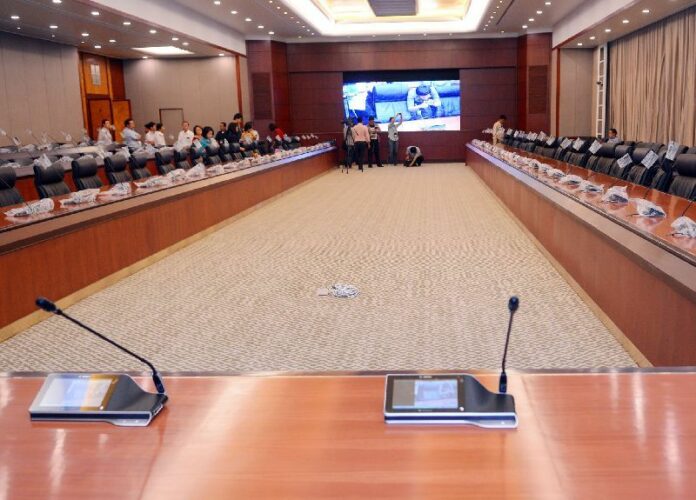 BANGKOK – Thailand's national anti-graft agency says it needs more evidence to determine whether the military government's purchase of pricey microphones involved corruption.
Sansern Poljiak, sec-gen of the National Anti-Corruption Commission (NACC), said the Commission has collected relevant evidence regarding the microphones, which cost 145,000 baht each, but officials are still investigating whether the purchase was in violation of any laws.
"The officials have completely collected all the evidence in this case and already submitted it to the Commission," Sansern explained. "But we think that the information does not adequately answer the big questions. Some issues are still vague. So we ordered the officials to [collect more evidence]."
He added, "We expect that we will have a conclusion soon."
The 192 microphones, which cost the Thai taxpayers a total of 27 million baht, were bought by the Thai military government in September for the Cabinet conference room in the newly-decorated Government House.
The decoration was completed just after junta chairman Prayuth Chan-ocha was chosen as Prime Minister by the national interim lawmaker body, whose members were handpicked by Gen. Prayuth himself after he seized power in a coup on 22 May 2014.
According to information about the renovation published on the government's website, in addition to the 145,000 baht-microphones, the military regime also ordered a 520,000-baht television screen, 19,000-baht TV wall mount, and 110,000 baht worth of LED lamps for the Cabinet room.
Gen. Prayuth told reporters at the time that he approved the purchases of the new teleconference system because of its superior quality.
"My voice is loud enough. I don't need a microphone. I don't want it. But I think we will need one in the future anyway, at least for a coordination with all the natural disasters centers, we will be able to see each other's faces in the video conference," Gen. Prayuth said on 14 October. "But since there seems to be a problem, you're welcome to investigate it."
Although the massive price tag of the Government House's renovation attracted criticism from activists and news agencies across the political spectrum, the NACC initially refused to launch an inquiry into the purchases. The agency eventually started an investigation after a group of activists filed a complaint with them in September 2014.
In recent months the NACC has focused on a two-pronged legal takedown of former Prime Minister Yingluck Shinawatra for her alleged failure to stop corruption in her government's rice-pledging scheme.
To punish her for the alleged crime, the NACC asked the junta's rubber stamp parliament to impeach Yingluck, and simultaneously requested a criminal trial against her from the Office of Attorney-General. On 23 January, the parliament retrospectively impeached Yingluck, while the Attorney-General also took up the case against her in the Supreme Court's Division for Holders of Political Office.
Related news: Pricey Microphone Scandal Greets Junta Cabinet
For comments, or corrections to this article please contact: [email protected]
You can also find Khaosod English on Twitter and Facebook
http://twitter.com/KhaosodEnglish
http://www.facebook.com/KhaosodEnglish