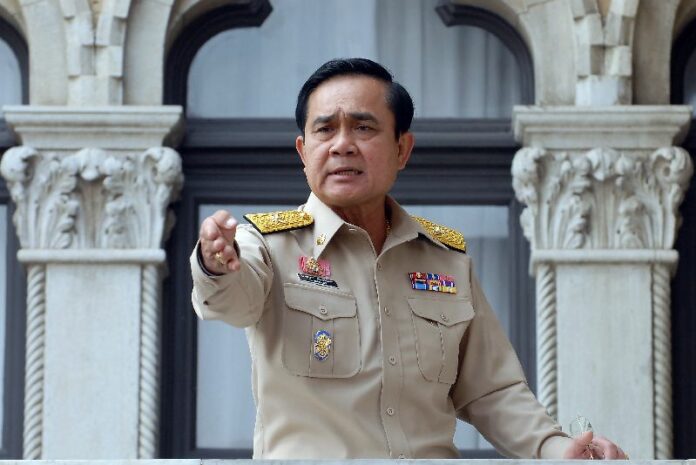 BANGKOK — Thai junta leader and Prime Minister Prayuth Chan-ocha says he understands why US diplomats are reluctant to meet with him in person.
The junta chairman was responding to a reporter who asked him to comment on the news that a US State Department official was meeting with two former Prime Ministers in Thailand today, but not the current one.
"Why would they come to meet me? They aren't meeting with me because they know how I came to power," explained Gen. Prayuth, who assumed the premiership last year after toppling an elected government in a military coup on 22 May 2014.
"Politics is politics," he said.
The US government criticized Gen. Prayuth's military takeover last year and announced that cooperation between Thai and American authorities would be suspended in some areas until democratic rule is restored in the Kingdom.
However, the two nations continue to work together on many other vital issues, Gen. Prayuth said today.
"Regarding economics, they still trade with us. They still do military drills with us. They can separate these issues, but we still mix them together," Gen. Prayuth said.
He added, "Today, many countries are trading with us normally. Some countries oppose us and disagree with us, but they still trade with us."
Earlier today, Assistant Secretary of State for Asia-Pacific affairs Daniel Russel met separately with former Prime Minister Yingluck Shinawatra, who led the government toppled in the 22 May coup, and former Prime Minister Abhisit Vejjajiva, the leader of the opposition Democrat Party.
Russel, the highest-level US official to visit Thailand since the coup, also met with the current Thai Minister of Foreign Affairs, Gen. Thanasak Patimaprakorn.
Russel said he discussed the political situation in Thailand with all three political figures, who reportedly expressed their commitment to achieving national reconciliation and securing the country's democratic future.
"The fact is, and it's unfortunate, but our relationship with Thailand has been challenged by the military coup that removed a democratically elected government eight months ago," Russel said today after the three meetings.
He stressed that the United States would not be taking sides in Thai politics, but said that the US government remains concerned about the junta's continued use of martial law and restrictions on free speech and assembly.
"We're also particularly concerned that the political process doesn't seem to represent all elements of Thai society," Russel said. "An inclusive process promotes political reconciliation, which in turn is key to long term stability. That's where our interests lie. The alternative – a narrow, restrictive process – carries the risk of leaving many Thai citizens feeling that they've been excluded from the political process."
Gen. Prayuth repeated to reporters today that his military government is not allied with either of Thailand's political factions, and that the coup on 22 May 2014 was necessary to "move the country forward."
"If today things were still the same, and protests were still taking place like six months ago, what would have happened?" Gen. Prayuth asked. "How many more people would have died?"
Nearly 30 people were killed in the six months of anti-government protests that preceded the 22 May coup. Gen. Prayuth has insisted that it was necessary for the military to step in to prevent further bloodshed between the protesters and rival pro-government demonstrators, who were also holding mass rallies in Bangkok at the time.
The junta chairman also told reporters today that there is no link between the diplomat's trip to Thailand and Yingluck's recent impeachment, which the junta-appointed legislature authorized last week.
"The US [officials] aren't here because of the impeachment of the former Prime Minister," Gen. Prayuth said. "The timing of the visit is up to them. The media should not speculate on its own. The media likes to analyze things and make assumptions."
When a reporter asked Gen. Prayuth what he hopes to explain to US representatives about the situation in Thailand, the junta chairman said he wants American diplomats to know about "the solutions to human trafficking in the fishery industry."
"We want to explain that we have these problems, and our plans to move the country forward," he said. "As for democratic procedures, we are moving ahead with them, such as preparing for an election and drafting a new constitution."
Related coverage:
US Embassy Did Not Invite Thai Junta For July 4th Party: Official
For comments, or corrections to this article please contact: [email protected]
You can also find Khaosod English on Twitter and Facebook
http://twitter.com/KhaosodEnglish
http://www.facebook.com/KhaosodEnglish