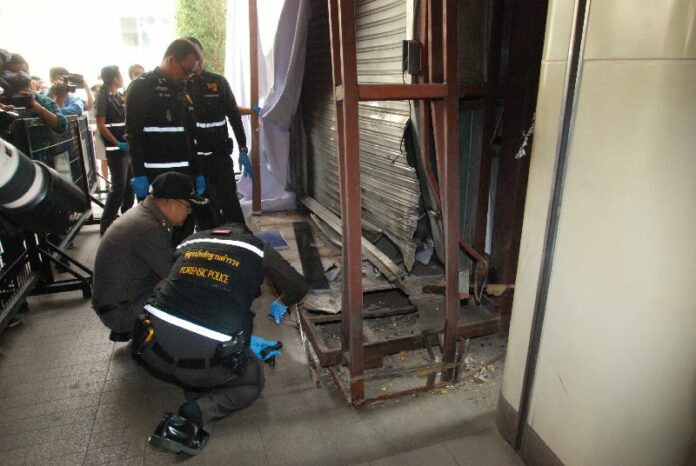 BANGKOK — Thailand's rival political factions are denying responsibility for the double bombings that targeted a high-end shopping mall in Bangkok on 1 February, as police work to track down suspects and establish a motive behind the attack.
The homemade explosives went off at around 8.10 pm on the walkway that connects Siam Paragon, one of the largest shopping malls in Thailand, and Siam skytrain station, the largest and busiest BTS station in the city. One person was reported injured by the blast.
In the past 48 hours, social media has been seething with speculation about who was responsible for planting the IEDs. Many pro-coup supporters have blamed the Redshirt movement, which supported the government toppled in the coup, while numerous Redshirts have accused the junta of staging the attack to justify the prolonged use of martial law.
Worachai Hema, former Pheu Thai MP and core Redshirt leader, told the press yesterday that the Redshirts were not behind the incident, because they "only want peace and a quick return to election."
However, he said he is convinced that the twin bombings were politically-motivated.
"It must have been committed by one of two groups: first, the group that wants to retain martial law by claiming there are still violent incidents; second, the group that holds power but is disgruntled with Gen. Prayuth," Worachai said, referring to the chairman of the ruling junta. Since seizing power on 22 May 2014, Gen. Prayuth Chan-ocha has touted martial law as a necessary means to maintain peace and order, and scoffed at suggestions to repeal the law and its restrictions on civil rights.
"They want to challenge his power, so they could have staged an attack to send a signal to Gen. Prayuth," Worachai speculated. "Therefore, the attacks were not coincidence. Someone intended it to happen."
Yesterday, Gen. Udomdet Sitabutr, the commander-in-chief of the Royal Thai Army, said it is too early to describe the bombings as politically-driven, and denied that the military is behind the incident.
"I know they must be saying that, but the authorities would never do such thing," Gen. Udomdet said. "The authorities are straightforward. There's no need for us to stage deceptive things."
Underground militants believed to be affiliated with both Thailand's Redshirt and Yellowshirt factions launched numerous grenade and shooting attacks on rival groups prior to the military takeover last May. Nearly 30 people were killed in the six months of anti-government protests that preceded the coup, and most of the fatalities were protesters killed by shadowy assailants who attacked rally sites.
Police say they are looking for
two male suspects
who were seen
planting suspicious packages near Siam Paragon on 1 Feb prior to the explosions.